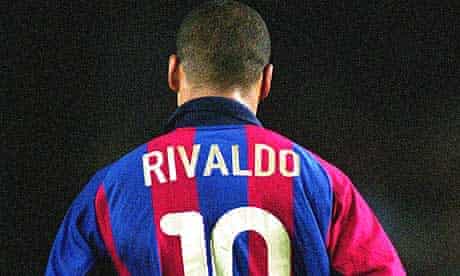 Manchester City's 2-year ban from the UCL could make Pep Guardiola return to Barcelona, according to Brazil legend, Rivaldo.
Rivaldo feels even if Pep as shown no sign of wanting to leave Man City, things might change if the ban is upheld and if Barca keeps struggling for consistency under Quique Setien.
According to him, City's problems should serve as a warning to other clubs to always adhere to the rules in football.
He added that it is still quite early to talk about a reunion between Barca and Guardiola but he expects intense speculations at the end of the season.
His words, "Manchester City have been banned from the Champions League for two seasons for failing to comply with UEFA Financial Fair Play rules. City are appealing but the case should be a warning to all clubs that rules must be obeyed.
"If City do miss two years of Champions League football, then it could be a great chance for Pep Guardiola to return to Barcelona next season. But it would depend on club's performance until the end of the season.
"If Barca win the Champions League this season under Quique Setien and produce a decent finish to the campaign in La Liga, there won't be any reasons for a managerial change.
"But if the team doesn't fulfil expectations and disappoints their fans, then perhaps there is a real chance of seeing Guardiola back at the club where he was most successful.
"It's still too early to seriously consider that possibility and we must wait until the end of this season.
"Will City's suspension be upheld? Will Barca want to change coach again so soon after Setien took over from Ernesto Valverde? We will have to wait for a little while to find out the answers to these intriguing questions."
"Martin Braithwaite has joined Barcelona from Leganes, a minor team that is struggling to avoid relegation and which could be seriously harmed by losing the player.
"With all the respect to Braithwate, who looks like he possesses quality, I thought Barca should sign a younger player. If Braitwhaite, who's 28, has signed for 18m euros he should be a regular starter, trying to replace [Luis] Suarez permanently.
"I didn't agree with this transfer for a couple reasons: it was made after the deadline and Barcelona could have promoted young players to the senior squad instead.
"Furthermore, the team is improving lately and playing better, so I don't see reasons to grab an attacker who, again with respect, I doubt could be the player the club needs now."