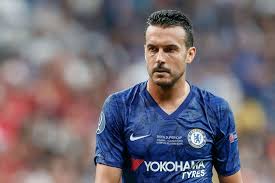 Chelsea winger, Pedro has come out to say he wishes to stay at the club for the foreseeable future.
Pedro revealed that he is yet to speak to the club on if his contract will be renewed or not but several Chelsea fans are already telling him goodbye.
According to the Spaniard, his contract is still on so he remains a player and the conversation on his future is still to come.
He added that he belongs to Chelsea right now but he cannot predict the future.
His words, "As many people know, my contract is up in May,"
"But I still haven't spoken to the club about whether or not it will be renewed and whether I'll carry on.
"I've seen loads of messages from Chelsea fans saying goodbye and thanking me for the time I've spent here, which I appreciate, but I'd like to tell all the fans simply that my current contract is coming to an end but I still have to talk to the club.
"I don't know whether I'll keep playing here or not. That conversation is still to come. But I have not signed for any other club. I belong to Chelsea. I have a contract. My wish is to be able to stay here but obviously we don't know what will happen. I have to speak to the club and let's see what happens."
On the Coronavirus, "We are working together with a lot of hospitals, not just in the Canary Islands, but also in Madrid, Barcelona and other parts of Spain,"
"We have begun some good projects which include distributing protective screens for all the nurses, doctors, security guards and police officers. We're trying to distribute the biggest possible number of protective masks for all these professionals, not only in the Canaries, but in the areas where there have been the most cases, in Madrid and Catalonia.
"We're also trying to help many people through this initiative by supplying food for healthcare workers. Given the long hours they are working, it's sometimes hard for them to get access to food, so we're delivering meals to workers at different hospitals in various locations. These are some of the first initiatives we have but we're open to getting involved with many others.
"I will try to help the maximum possible number of people, so that once more we can say thank you to all the people who are confronting this situation day after day and who have to contend with the virus, and with the people who have been affected on a daily basis. We want to thank them once more in this way for the work they are doing every day."