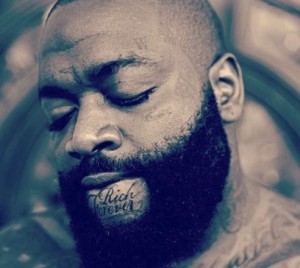 American large sized rapper has taken the tattoo game a little bit further than most stars.
Rick Ross, who is worth approximately $30million, shared a pic on his instagram page yesterday showing his new chin tattoo…he tattooed the phrase 'Rich Forever'
He's being massively criticized for it with one fan writing "He's not rich enough that he doesn't have to worry about money for the rest of his life. The way he spends it he may be broke soon…the life of a rapper is short lived"
I wonder what Dr. Dre would do knowing he just sold his signature brand 'Beats By Dre' for $3 billion.
See another photo below: –