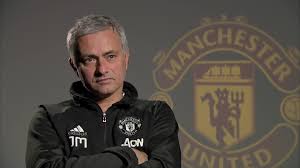 While on tour with Manchester United in the USA, Jose Mourinho told a news conference: "Our squad is not so big. Everybody knows, because I told the objective, I would like four players and I have asked for four players, and I am ready to go from four to three because the market is difficult."
Mourinho already has two of those signings — Victor Lindelof and Romelu Lukaku — and many assume he is still looking for additions in defensive midfield as well as on the wing. It is always tempting to dissect his words and extract more meaning from them than they actually have — mainly because in the past, he has so often put out statements with barely veiled barbs.
But in this case, it seems his words can be taken at face value. This summer has seen the most distorted market to date — one where, as Mourinho states: "The strange thing is now I am used to seeing teams paying big amounts for big players. Now, everybody is paying big amounts for good players. There is a difference between good players and big players. Now the figures are also really crazy for normal players."
Some clubs are now so wealthy that they don't need to sell their best players — or, if they do, they will be sure to charge United a premium. That's all understandable enough. What it means, though, is that Mourinho might still end up short of the players he needs in order to mount an effective campaign both in the Premier League and in Europe.
Crucially, even if he were to land those two extra players, he might still not have enough. Mourinho likes to work with a small squad — a method which has brought him extraordinary success over the years — but in doing so risks exposing his playing staff as threadbare.
Bayern Munich have so much depth in their midfield that they can afford to sell Renato Sanches if need be. If Paul Pogba or Ander Herrera suffer injuries or require rest — not an unrealistic prospect, given their prodigious workload last season — United have to rely on a partnership of Marouane Fellaini and Michael Carrick. This highlights the side's severe lack of depth, even if United do add one more player to their midfield ranks.
Axel Tuanzebe and Timothy Fosu-Mensah can be diligent deputies, but they do not yet have the experience and the passing range to replace Herrera and Pogba adequately. Fellaini lacks pace and creativity, and Carrick is not at an age where he can be relied upon to play too many games. There is cause for some concern, given how tired Pogba looked in the month or so after Christmas — a period immediately following his best two months of form since returning to Old Trafford.
Looking across town, Mourinho will no doubt remember how Manchester City's championship challenge was derailed by the injury to key midfielder Ilkay Gundogan. The problem might be that United are struggling to find replacements who are satisfied with spending substantial portions of the season on the bench.
Conversely, Mourinho's faith in his small squad could be seen as very encouraging. For the first time in years, each of United's attackers, with the exception of Juan Mata, are at least fairly quick. This may be a team designed to lead from the front, which might explain the relative lack of emphasis on the midfield areas. Any combination of Henrikh Mkhitaryan, Marcus Rashford, Anthony Martial and Romelu Lukaku should be one of the quicker forward lines in the Premier League. With Wayne Rooney and Zlatan Ibrahimovic gone, United are now very well placed to produce the counterattacking game that has brought Mourinho so many trophies. In this respect, they should be a team transformed, with a far greater intensity in the final third.
While United hope they do not leave themselves understaffed, there is still much room for optimism. With the exception of AC Milan, who have been on a shopping spree that verges on hyperactivity under their new owners, United have actually been one of the more proactive movers in this summer's market. Both Lindelof and Lukaku represent significant upgrades to the squad, and upon their arrival Mourinho can claim he has made six outstanding acquisitions during his time at Old Trafford.
Ed Woodward also deserves substantial credit for the speed and the secrecy with which these deals have been made. The signing of Lukaku in particular was achieved with the same sort of minimal fuss that was the hallmark of David Gill. United's recent transfer activity shows that Mourinho is building a side of sufficient quality to challenge the best of Europe in all leading competitions. The only question is whether it's being built quickly enough to pose a consistent threat this season. So far, though, the indications are largely positive.