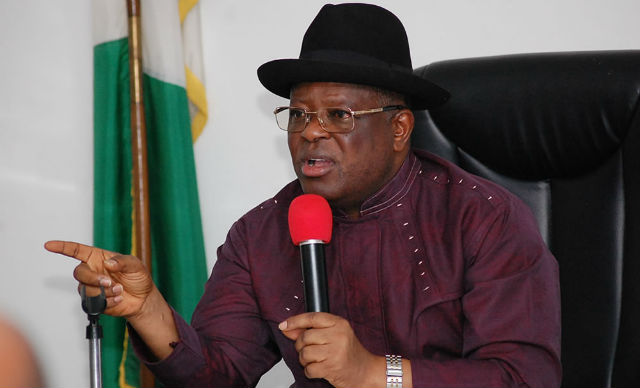 The Governor of Ebonyi State, Chief David Umahi, was on the news again last week. His "offence" this time was the inauguration of 191 new sets of Special Assistants, tagged, Senior Technical Assistants' and Technical Assistants, by his administration.
Two things were significant in the appointments. One, the list was dripping with names of unemployed youths. Two; the appointment was surprisingly dominated by loyalists of the Labour Party (LP), All Progressives Congress (APC), All Progressives Grand Alliance (APGA) and the ruling
Peoples Democratic Party (PDP) in the state. The Umahi's formular apart from justifying geo-political realities in the state, immediately created temporary employment to many people.
Speaking at the International Conference Centre, Abakaliki, Umahi unapologetically declared that the appointment is part of the stomach infrastructure of his administration.
He said his administration will be spending N35million already approved by the state House of Assembly in the payment of salaries for the newly appointed aides, saying that the appointees numbering about 191 and hopefully to increase to 200 with expectant salaries of N40 million is part of empowerment scheme to reduce crime in the state.
The inauguration was still ongoing when thousands of bloggers and commentators descended on the governor and flooded every available social media platform with insults. These high-class incurable accusers lambasted the governor as a maniacal recruiter!
The way Ebonyians savaged their leader was nothing short of scandalous. There's node meaning epithet that hasn't been hauled at the governor. The verbalde humanization rose to such a scale that I had difficulty picturing if the recruitment was actually Umahi's only offence.
Come to think of it, the entire Nigerian political machinery that bears the name "government" is little more than an arrangement to enable a few individuals to mindlessly loot the resources of the larger collectivity. The dominant ethic that shapes Nigeria's public space is the empowerment of a few gluttonous parasites who hijack the resources of the state.
Instead, we are witnessing a rare act of what's possible when the ruling class in Nigeria is desperate enough to embrace the idea of governance as a mechanism for addressing people's legitimate agitations (in what I styled "Chop make I chop"). So why should we crucify this man when we should rather immortalize and venerate him.
Would we rather prefer a system that empowers a few looters to disinherit the rest of us.
Notably, this novel intervention is coming at a time, the naira had gone on a precipitous fall. Numerous businesses, unable to find or afford foreign exchange for critical imports, were shedding staff or shutting altogether. Most state governments—along with local government areas—owed workers multiple months'salaries. It is in those bleak circumstances that a governor chose to dole out money to its idle youth population and bring them closer to the corridor of leadership and to help him advance the course of governance.
What is the offence in that!
To my mind, the present Nigerian economic and unemployment crisis requires every Nigerian governor to bring their "A" game to the table. That,In conjecture, underlines what Umahi has done. The man has not run out of new ideas to make new impact.
The Umahi-man strikes me as a kind of enigma. The metaphor is inspired by his amazing restlessness, his constant hunger to build, rebuild, changea nd empower, invent and re-invent. Umahi maintains an itinerary that would daunt many people half his age. He's the kind of man who provokes the question, "What is the secret…?"
The constant seeking of a balance between Governance and human empowerment has been Umahi's inescapable burden and boon. Ever before his foray into politics, many Ebonyians have encountered him through his unceasing interventions in humanitarian enterprises such as school scholarships to students, and other empowerment programmes dished out by his Dave Umahi Foundation.
This time, Umahi, the genius has devised a superb formula for taming the negative impulses of agitated unemployed youths. So what is the fuss about! How can any sane mind find faults with giving meaning to the lives of young idle people!
I often fear that, one day frustration among unemployed youth in this country would spill out into the streets. Nigerian government's careless response to the youth unemployment crisis is silently building an army of disgruntled elements whose frustrations are near boiling point.
Nigeria's treasury is hemorrhaging billions of naira to sustain a bloated public service wage bill, and luxury cars for many governors and their wives, notwithstanding the poor economic conditions. Ours is development thirsty; not money conscious! Thank God!
Generally, the sheer scale of the squandermania of the Nigeria's political class boggles the mind: not millions, not billions, but tens of billions- gone, buried in concrete and pitch, under over-priced bridges and roads, and in bank accounts that are beyond the reach ofthe short arms of our law enforcement agencies. And you know what is more distressing? You and I know that not one political thief will make a jail, quite unlike the destitute mother who shoplifts to feed her starving children,or the underpaid father who "tief a lil thing to send his kids to school.
Either way, It's our money that they waste or steal, and we have no say over the banditry except once in four years when they dole out peanuts for elections. Therefore what is wrong with a reverse-flow. What is wrong when a sitting governor decides to change the status quo, to enable tax payers "chopp" 40 million from tax payers money.
I have remained detached…watching, noting, probing, but never joining… But I say: for this particular gesture, the governor deserves commendation not condemnation.
The recent appointment is one place where the state government has made a very bold statement; very bold impression. Roughly now, I think it has over 100 youths taken out of the streets, with attendant benefits to their dependants.
[STA to the Governor on Internet Evaluation] via Philip Nweze