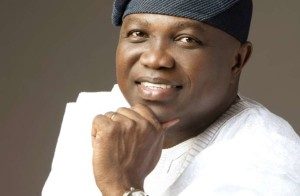 Lagos state governor, Akinwunmi Ambode, has revealed that out of a population of 22 million, only 600,000 people pay taxes in the state.
While speaking at a sensitisation workshop on 2017 Water Technology and Environmental Control Exhibition and Conference (WATEC) on Monday, July 10, 2017, the governor called on residents of the state to show more commitment to fulfilling their civic duties by paying their taxes.
He said the failure of the working class to pay their taxes regularly is an hindrance to providing proper infrastructure in the state.
According to him, "There is nothing like government money, it is taxes that people are paying that you are asking for this shoreline protection, it is from the taxes that you are asking for us to de-flood, it is from the taxes that you are asking for us to do the roads and all that.
"The number of people paying taxes in Lagos is less than 600,000 people and we are 22 million and then 67 percent of the people living in Lagos are below the age of 35 and even the retirees, how much are they paying? They are on pension. So, you have to go through your nose and you want to be as compassionate as possible that in a recession, you don't overtax people."
"What I am saying is that there must be a convergence between civic obligations and the ability of government to build trust and be able to tell people that you know what, the little that you are giving me, I will use it judiciously. When I use it judiciously and you see it overtime, trust me, if you pay more, I will do more.
"Obviously, the vision is there, the plan is there but again it is not driven by anything than the citizens themselves and the area that we need improvement is for citizens to have trust or confidence that the taxes they are paying will be returned back in terms of infrastructure but I can tell you that I am also concerned; I see a lot of things I don't like but I am inhibited by the amount of money I have."
He was responding to a suggestion about the completion of an ongoing shoreline protection particularly in the Lekki and Ajah axis.
This was a reaction to the flooding incident that happened in Lagos over the weekend where a lot of places, like Lekki, Victoria Island, and Ajah, were flooded during to torrential rainfall that lasted for days.
In response to the flood situation, he said, "Our intention is to explore a wide array of technological advancements and possibilities, to ensure that we obtain the best solution to a rather nagging problem."