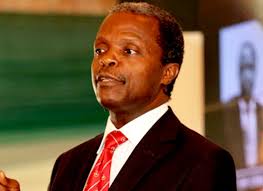 Acting President Yemi Osinbajo has said the future of Nigeria's economy is nothing but the small and medium scale enterprises.
Speaking at the launch of the MSMEs clinics which held at the Eagle Square, Abuja on Thursday, July 20, 2017, Osinbajo said he has seen the future of the the Nigerian economy.
"I have seen the future of the economy of our country and that future lies in the small and medium scale enterprises, many of who are here today advertising their products," he said.
Continuing, the acting president said: "Just today I have come across BIMKAF Palace who produces coconut oil, flour, ginger powder, carrot oil and so on, Cura Foods and Disposables, Euphrates Renewable Enterprises, Bob-ella Décor & Event Management, Nwamaka Ventures and several other MSMEs. The list is far too long to go on mentioning them.
"I want to say that all of the businesses we have seen here today, many of them are young men and women who believe in this country and who are using Nigerian products, Nigerian crafted machines in many cases, fabricated and who are producing incredible things with what they have.
"A lot of the capital they have is from several of the micro finance businesses that are working with them.I want to say that the future of our country is in small businesses, medium size businesses doing great things, and that is what we are seeing here today.
"But it is not enough for these businesses to produce and manufacture and to work hard as they are doing, it is our business as government to do our part.
"That is exactly why we have this MSME Clinics, the reason why we decided to have this clinics in the different states where we have held them so far and now in Abuja, is because we believe that government has a key role to play in creating an environment for businesses to prosper and for businesses to make good.
"This is exactly why we are here, the idea came out of conversations I had with Mr. President about how we could develop small businesses quickly.
"The business of making our country truly great is not just the business of government. Government is transient, it passes away but it is the business of every one of us.''
"I can assure you that whatever it takes to make our country truly where it should be in the comity of nations in Africa and anywhere in the world, we will give it.''