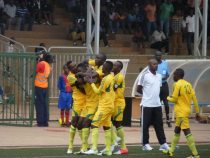 AS Kigali travel to Bujumbura on Friday 14th February for their Orange CAF Confederation Cup preliminary round return leg clash against Burundi's Academie Tchite FC due to be played on Sunday 16th February at Prince Louis Rwagasore Stadium.
As its name suggests, Academy Tchité is a team sponsored by the player Mohamed Tchite who plays for Club Brugge of Belgium. The player was born in Burundi of Rwandan parents but turned down invitation to play for the Rwandan national team. He has played in Rwanda for Mukura Victory FC.
Coach Andre Gasambungo (Who in the past played in Burundi as the Flamingo FC goalkeeper) was optimistic after the victory 1-0 in the first leg in Kigali. A draw is enough to pass the preliminary round. AS Kigali, Rwanda national cup winner (Peace Cup) had their victory thanks to a goal of striker Bodo Ndikumana.
The City of Kigali-sponsored side will be boosted by the return to full fitness of key midfielder Muhamed Mushimiyimana, who got injured in the league match against APR three weeks ago.
If AS Kigali progress past the qualifying round, they will face A Alhy Shandy of sudan in the first round.
Confederation of African Football (CAF) News