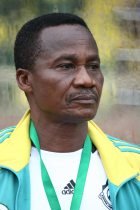 The place of Coach Kadiri Ikhana in Nigerian football folklore is already assured after he led Enyimba International Football Club of Aba to win the CAF Champions League in 2003.
The feat achieved by the People's Elephants, as Enyimba is called, under Ikhana was historic since it ended Nigeria's four-decade wait for success in the CAF Champions League. Ikhana is highly revered at home having successfully coached a string of domestic clubs including Kano Pillars, who incidentally are hoping to overturn a 3-1 first round, first leg defeat against Association Sportive Vita Club of Democratic Republic of Congo in this weekend's second leg CAF Champions League match to be played at the Sani Abacha Stadium in Kano.
Cafonline.com sought the opinion of this vastly-experienced 62-year-old erstwhile coach of Nigeria's Women National Team, the Super Falcons, on the tough task of winning the CAF Champions League as well as the pitfall both Kano Pillars and Enyimba must avoid by if they want to rule the continent at the end of this year's campaign.
Cafonline.com: You earned your reputation after helping Enyimba to win the CAF Champions League as the first Nigerian club in 2003 after 40 years of futile attempts, how did you achieve the feat?
Ikhana: It was a difficult task and there were pressures on us because no Nigerian club had won the trophy since it was launched. But the collective effort especially from the government and people of Abia State as well as Nigerians in general helped us because it was such a difficult task. Winning the CAF Champions League with Enyimba was something out of the ordinary considering the fact it had eluded Nigeria for so long. It was a great moment for me and my family was lost in the celebration.
Cafonline.com: Based on your experience, how can a team set out to overcome some of these difficulties needed to win this competition?
Ikhana: Without good organisational structure and solid administration, it would be impossible for a team to win because of the peculiarity of African football since you have to deal with a lot of issues especially travelling for away matches. Of course, without good preparation it would not be possible at all.

Cafonline.com: Enyimba and Kano Pillars are both representing Nigeria in this year's Champions League, what do you think about their chances?
Ikhana: Frankly, they would have to work very hard. Incidentally, I watched all the four teams that would be representing Nigeria in this year's continental competition during the just concluded Glo Pre-Season tournament in Abuja and I think it's only Enyimba that looked ready. But if they are both lucky, they would reach the mini-league group stages.
Cafonline.com: Incidentally, Enyimba and Kano Pillars won and lost with an identical 3-1 score line last weekend respectively against Anges de Notse of Togo (home) and AS Vita of DR Congo (away); do you think they can still progress to the next stage of the competition?

Ikhana: It is dicey for both teams, especially for Kano Pillars that have a big job on their hands because they lost 3-1 away to AS Vita last weekend. It could be pretty hard for Enyimba too because if they lose 2-0 in the second leg in Lome, they are out. In the same manner if Kano Pillars fail to score at least two goals without conceding any, they are out. So, mathematically, there are still plenty things to play for. Both teams are still in danger, as such, they must bring out their best against their opponents this weekend.
Cafonline.com: What do you think is an ideal score line for a team before playing a second leg game based on your experience on the continent?

Ikhana: I think a 1-0 score line is even better than 2-1 or 3-1 because with a 1-0 lead you are fired up that more work is needed in the second leg. But leading 3-1 can give you a false impression that all is well, but this is not always so. I think a 1-0 or a 2-0 win is better than 3-1 which can be counterproductive.
Cafonline.com: With the peculiarity of African football, how best can a coach prepare his team, especially for away matches?
Ikhana: There are so many things involved. There must be focus on the part of everybody and there must be peace and tranquillity in the camp. The players' minds must be conditioned to only one thing: winning. Apart from preparing the players technically and tactically, you must be able to psyche up the players about the task ahead of them because you must be able to break things down for them as easy as possible. Above all, the players must be in good physical condition.
Confederation of African Football (CAF) News