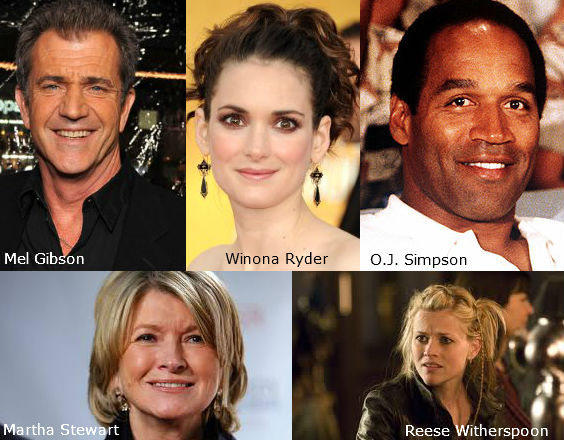 We often look up to celebrities, the people we see on our television screens and in movies each day. Unfortunately, not all of our idols are perfect role models; they often fall from grace. Here is a list of celebrities who made memorable headlines in recent years for their illegal activities, provided bailaustin.net.
1. Winona Ryder
It was a shock to fans of her movies when Winona Ryder was arrested in 2001 on charges of shoplifting. The star of "Girl, Interrupted" was accused of trying to steal merchandise from a Saks Fifth Avenue shop. In fact, her grand total was nearly $5,000. According to an interview Ryder did with Vogue Magazine, she does not feel too bad about because she "hadn't hurt anyone." After her arrest, the actress was required to pay some fines and spend three years on probation.
2. Mel Gibson
The star of "Braveheart" will never live down his big arrest. In 2006, the actor was pulled over for suspicion of driving under the influence of alcohol. Upon getting out of the car, Gibson began cursing at the officers and using anti-Semitic remarks. While Gibson did later apologize for his remarks, the actor's naughty behavior has landed him in quite a bit of trouble in recent years. He got out of the ordeal with a misdemeanor for DUI and received a lax sentence: three years of probation and time in rehab.
3. O.J. Simpson
After the bodies of Nicole Simpson and Ron Goldman were found outside one of the victim's condos, O.J. Simpson was the first suspect on the list. Simpson had recently divorced his ex-wife, and contention was high. Upon arriving at his Los Angeles home, Simpson was handcuffed by police and taken in for questioning; however, he was not under arrest. That came later, after the football player was charged with two counts of murder and helped lead a low-speed pursuit on the freeways of Los Angeles. When police arrested Simpson, he was clutching a family photo.
4. Martha Stewart
She might be your lifestyle and craft guru, but she found herself in need of some assistance back in 2003. Nobody anticipated the well-known figure would find herself behind bars, but when she was accused of insider trading that is exactly what happened. She was arrested alongside her former broker and found guilty of conspiracy and false statements. Stewart was sentenced to five months in federal prison, followed by five months of house arrest, two years of probation and a steep $30,000 fine. In the end, Stewart apologized to everybody harmed by her actions.
5. Reese Witherspoon
At one point she was America's sweetheart, but now she has an arrest record. Witherspoon's husband was pulled over by the police for suspicion of DUI. Witherspoon got out of the car and caused quite a scene. In fact, videos of her behavior began to pop up all over the place. She was arrested for disorderly conduct. Witherspoon publically apologized for her behavior and said she was quite embarrassed. The result of her arrest was a fine.
Sure, one arrest in a person's past does not necessarily mean that he or she is a bad person; however, perhaps understanding that even our so-called role models make mistakes will put an end to the amount of celebrity worship we contend with each day.
About the author:

Around
the Clock Bail
Bonds
has locations in Austin, Georgetown, and San Marcos,
Texas
. Follow them on 
Facebook
 and 
Google+
 for more information.