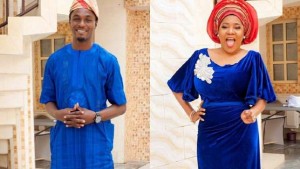 It is now glaring why Toyin Aimakhu proclaimed herself 'single' and 'Miss'.
Today, Adeniyi Johnson made his estranged wife, Toyin Aimakhu his Woman Crush Wednesday.
Three hours later he shared another of picture of her and begged his fans to help him apologize to her.
In the caption he also confessed to flirting and having a dirty chat with an unidentified woman.
 "To clear the air of the recent happenings… I ADENIYI JOHNSON is at fault and not my wife… she reacted according to her pains and we all have different ways of reactions… I beg everyone to pls stop throwing banters and insults… u can channel all anger and grievances towards me and not her…. instead of abuses I would rather BEG u to join me in apologising to my darling, lovely and adorable wife… OLUTOYIN I'M DEEPLY SORRY PLEASE….. I promise to make things right…. I Don't want a broken home….. #shecaughtmeflirting #dirtychat" wrote the actor.
Fans detected the crack in the couple's marriage on August 24 when Toyin Aimakhu referred to herself as 'Miss Aimakhu'.
There are news reports that she has moved out of her matrimonial home.
 This is not the first time Adeniyi Johnson and Toyin Aimakhu are having marriage problems, in January, Toyin Aimakhu and Adeniyi Johnson split up after one year and six months of marriage.
A few days later, they released a joint statement on the rumors confirming the challenges they were facing in their marriage, but said they were still together.