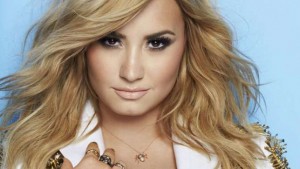 After a lot of speculations for years, it seems confirmed that Demi Lovato might actually be bisexual.
In her new song, 'Cool For Summer', Lovato sparked rumors on her se*uality when she used lyrics about her desire to get it on with a fellow female.
However, in a recent interview on 'Alan Carr: Charity Man,' she was put on the spot by reading some of the steamy lyrics out loud and answering questions about their meaning.
"Tell me what you, what you like, it's okay, I'm a little curious too," Carr read, going on to amusingly sing the chorus. He then said, "Now, I put it to you, Ms. Lovato, that that song's about lesbianism. Can you confirm or deny this accusation that it's about lesbianism?"
Lovato responded, "I'm not confirming and I'm definitely not denying," prompting yells from the audience. She continued, "All my songs are based off of personal experiences. I don't think there's anything wrong with experimentation at all."
The openly-gay Carr went on to joke, "The trouble is, I experimented once and it stuck." And that's when Lovato actually did give a bit of confirmation, saying, "I didn't say it didn't stick, either."
The singer is in a long-term relationship with Wilmer Valderrama.