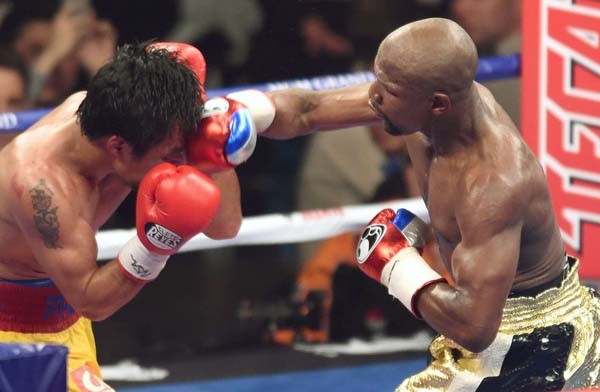 The Nevada State Athletic Commission (NSAC) says Floyd Mayweather did not adhere properly to the rules in seeking for an intravenous drip before his victory over Manny Pacquiao.
The US Anti-Doping Agency (USADA) passed but after the 2 May mega-fight, a Mayweather application to have a drip of saline and vitamins prior to the American's points decision victory over Pacquaio.
But the NSAC says only it could approve the issuance of the IV infusion, and not the USADA.
Unbeaten multiple weight champion, Mayweather, and the USADA have denied any drug testing violation, with the 38-year-old, who is due to fight Andre Berto this weekend, adding: "I did not commit any violation of the NEVADA or the USADA drug testing guidelines.
"I follow and have always followed the rules of NEVADA and USADA, the gold standard of drug testing.
"I am very proud to be a clean athlete and will continue to champion the cause."
USADA in its separate statement confirmed it granted Mayweather a Therapeutic Use Exemption (TUE) for the use of the drip in line with the NSAC regulations.
The statement said: "Nonetheless, because Mr. Mayweather was voluntarily taking part in a USADA program, and therefore subject to the rules of the WADA Code, he took the additional step of applying for a TUE after the IV infusion was administered in order (to) remain in compliance with the USADA program.
"Although Mr. Mayweather's application was not approved until after his fight with Mr. Pacquiao and all tests results were reported, Mr. Mayweather did disclose the infusion to USADA in advance of the IV being administered to him."
It has, however, been reported Mayweather received favourable treatment from the USADA in getting the go-ahead to receive an IV infusion. The article stressed that, although the substances in question were not banned, an IV drip "can dilute or mask the presence of another substance that is already in the recipient's system."
USADA ridiculed the report, which it says was riddled with significant inaccuracies and misrepresentations based on unsubstantiated rumors as well as anonymous or self-interested sources."
The Pacquaio camp, who had, prior to the bout in Las Vegas, had a request to have an anti-inflammatory shoulder injection turned down by the NSAC, are unhappy about the situation.
The Filipino later blamed injury for his loss to Mayweather by unanimous decision.
The 36-year-old, addressing the local media, is quoted as saying: "The Mayweather camp accused me of using performance-enhancing drugs. Now look what happened. The truth has finally came out and I was vindicated."