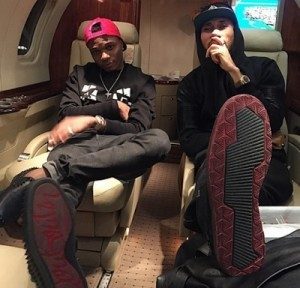 He promised to give out a million Naira at his concert and he didn't fail to deliver.
Wizkid who performed at an Industry Nite special concert held at Oriental Hotel on Tuesday, December 29, 2015 in Lagos, thrilled fans with a very mature music performance and something 'extra'.
The Nigerian Pop artiste who had earlier announced that he would be dashing out one million Naira to his fans at the gig indeed stayed true to his words as four lucky fans received N250,000 each.
Wizzy asked some fans to recite any of his songs while the soundtrack played in the background.
The StarBoy boss had entertained the crowd with back to back hits when he announced that he would be giving the money out. He called on his bodyguard who threw the money on the stage, exciting fans even the more.
The highlight of the evening had to be when a little boy came up on stage and performed Wizzy's 'Joy' word for word without skipping a beat – the crowd went crazy.
"I just want to say thank you for signing that song, it means a lot to me", Wizkid said as he gave the boy N250K.
There was another fan who didn't even have to sing – all he did was take his shirt off and showed off his huge tattoo displaying Wizkid's face on his chest. Wizkid and the crowd agreed that he too was just as big as any fan could be, as he received N250K.
The other two winners were young girls who clearly got the Pop star smiling as they also nailed their renditions.