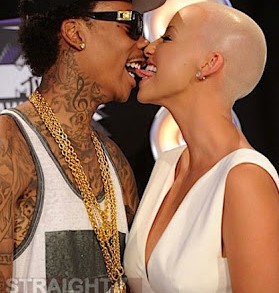 Wiz Khalifa has denied allegations that he played Kim Kardashian's famous sex tape during his recent concert in Brazil despite reports.
According to MediaTakeOut, Khalifa went after West from the stage yet again. They report that while performing in Rio De Janeiro on Sunday, January 31 the rapper screened Kardashian's sex tape with Ray J on the jumbotron for the entire crowd to see. Khalifa then allegedly said, "I would have left Ray J's d*ck out, if Kanye left out my kid." The rapper, says MTO, also supposedly added, "Ray J's d*ck deserves an Oscar for its performance."
The rapper's collaborator, DJ Bonics took to Twitter after the article was published telling fans that the 'We Dem Boyz' rapper didn't play Kim's sex tape.
As we earlier reported, Khalifa and Kanye West got into a Twitter feud last week after West announced he was changing the name of his new album from 'Swish' to Waves. Khalifa accused West of stealing the title from imprisoned rapper Max B, who previously released a number of 'Wave' mixtapes.
West subsequently went off on an epic Twitter rant against Khalifa, in which he insulted his music, ex-wife Amber Rose and Khalifa's three-year-old son, Bash. Khalifa then continued his feud with West during his concerts in South America. In Buenos Aires, Argentina, Khalifa reportedly yelled "[Expletive] Kanye." And in Santiago, Chile, he warned West during a show, "We coming for you. You better run."
In a world of camera phones and social media, it's a bit odd that there's no evidence on the internet yet!Regardless, a source close to the situation tells Gossip Cop that the report is 100 percent "not true."