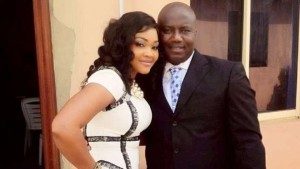 Nollywood actress, Mercy Aigbe, in a recent interview with Punch, has disclosed that she does not intend acting nude. She stated that not even when the pay is large would she strip for the camera as it's against her culture and belief.
The Edo State born actress gave a clear and precise response to a question pertaining to her acting nude.
She said,
"I can never act nude because it is against our culture and my beliefs."
Also talking about her how supportive her husband is of her career, the mum of two said, "I was already an actress before i met my husband and he goes through my scripts. Sometimes, he chastises me for not kissing well in a movie. I could be on set for a week or more and he does not make an issue out of it. I know i married my friend and he is very understanding."
She also discouraged the wrong perception associated with Yoruba movie actors. She added that it is a poor misconception to consider them as illiterates.
Aigbe who is a graduate from the prestigious University of Lagos, won an award as the Best Actress in Yoruba at the City People Awards.
She is married to an hotelier named Lanre Gentry, and already has two children. The actress is also an ambassador to a Sickle Cell initiative called Dubai Afrika Sickle Cell Project.