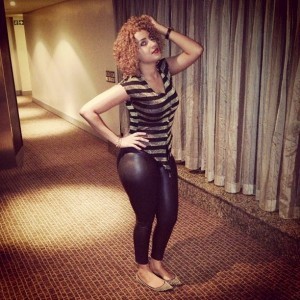 Juliet Ibrahim is not taking any crude comments from fans this time. The Ghanaian took a break from being the nice celeb by shading a rude fan who had unkind things to say about her yesterday, March 14, 2016.
The actress who turned 30 last week took to Instagram to share photos celebrating the big day, but her followers questioned her age, saying she looks much older.
"You are more than 35 years my dear, sorry to say because by their bone we shall know their age," one fan said. Another added, "Guess what she is even more than 35 years." And when accused of hating, Instagram user @vehis120 said, "No hate my dear cus i am her number 1 fans. But only expressing my observation about her age because you and i know that is not her real age and is high time for some celebrities to stop faking their age on social media."
The actress who ignored their bants at first clapped back in anger and replied, "See your 70 years old face," she clapped back at one of her followers, adding, "no be u who was midwife when my mother gave birth to me? Your bones are showing oh we know u!"
Juliet was recently joined by Akon as the new African ambassador for Citron.