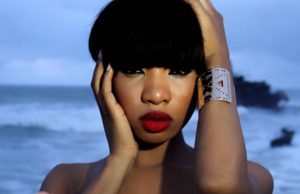 Mo'Cheddah has finally transitioned from being a fashionista to setting fashion trends as she launches her eponymous clothing line, Mo'Cheddah Clothing with the Bolanle Lookbook Collection.
The singer's fans can finally rock the stunning pieces from her clothing line from which she has teased them in recent times.
Mo'Cheddah unveiled the lovely pieces from the Collection named after her mother via her Instagram page.
Modelling most of the pieces from the collection, the 'Survive' singer looked ravishing in the chic pieces.
Commenting on the ready-to-wear collection on social media, the 25-year-old revealed that the pieces were inspired by the women in her family and true to her words, the pieces are individually named after her sisters and mother.
Mocheddah made sure to assure her fans of the affordability of the pieces meant for the everyday woman.
She wrote:
"I want everyone to be able to express themselves through fashion without having to break the bank." says the super stylish songstress;
"In creating my first collection, I put together fun and flirty pieces that I love and often look out for when shopping for myself."
The chic pieces while edgy features Aztec designs, mesh and plain colours keeping it cool and stylish.