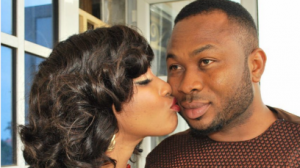 Tonto Dikeh's husband, Oladunni Churchill, says he was never involved with actress Roseline Meurer.
Contrary to reports, Churchill through his spokesman Mr Paul, said that Rose is not his personal assistant and he has no intimate relationship with Roseline Meuer.
The philanthropist in an interview says Roseline is a Women and Child ambassador of the Churchill Foundation and what they share is just business.
According to Mr Paul,
"The foundation is all about empowering people. Our purpose is to be a blessing to the people of the world. Starting with Nigeria.
We have brand ambassadors as you can tell. Rose Meurer she's a mother and child ambassador. We hope to empower at least 46,000 people in our nation. Our brand ambassadors represent us everywhere."
Still speaking about the chairman of Churchill group's relationship with Rose,
"That's a wrong allegation as I'll say. She's actually the brand ambassador for the Big Church group, the foundation and her focus is of Mother and child.
She's been with us for about two years and some time later this year that contract should be over."
Talking about the car rumoured to have been given to the actress by Churchill,
"There are all sorts of sponsored attacks because of issues that are private to the chairman and his family.
If the foundation gave her a car, the foundation gave her a car. He is the chairman of the group and the group decided to do that."
Meanwhile, Churchill said he never laid his hands on Tonto Dikeh denying the domestic violence allegations.
All this comes after the mum of one said her husband used her as a punching bag and cheats on her.