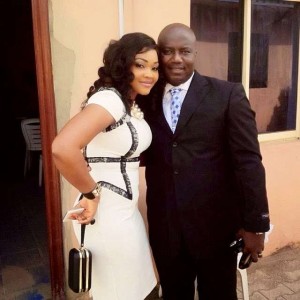 It is no longer news that Mercy Aigbe-Gentry's marriage is finally over.
What might be news, are the details that led to the failure of her seven-year-old marriage to Hotelier, Lanre Gentry, and domestic violence is the least of them.
After the 38-year-old actress shared a cryptic Instagram post on domestic violence on Friday, April 28, 2017, saying 'Say no to promiscuous women,' many began to wonder if she suffered the same fate as many Nigerian women.
It later came as no surprise when her husband shared a similarly cryptic message via his Instagram page saying, 'Say no to promiscuous women,' confirming that something was indeed wrong with their marriage.
The Net reports that the couple's marriage was wrought with mutual infidelity, made worse by financial crisis.
A source close to the family who pleaded anonymity reportedly disclosed some details of the disturbed marriage.
"The marriage was destined to break. Mercy Aigbe has been promiscuous all through the marriage and this has caused a strain between them since the beginning.
"Some of us have always known that this would happen someday. A married woman cannot be sleeping about like that. A lot of people thought that after she remarried, she would have calmed down."
The source went on to add that the-mother-of two has maintained amorous relationships throughout the course of her marriage to Gentry.
"Where do you think she gets all her money from, movies? How much do Nigerian actresses make for their movie roles? If you compare it with their luxurious lifestyle, you'll see that it doesn't add up.
"Let me give you an example: for someone who likes to travel as much as she does, each trip she takes outside the country takes nothing less than N3million. Take a look at her Instagram posts.
She always flies business class. The cheapest amount you can get a business class ticket to Dubai is N900,000. Don't you see the pictures she posts online? Mr. Gentry simply does not have the funds to foot that bill multiple times a year."
The source also alleged that several politicians known for having actresses on a payroll for sexual favours, have Mercy Aigbe on speed dial.
"These are the people that help Mercy maintain the facade of being an A-lister."
Although all the above listed facts make Gentry seem like the victim in this equation, The Net reports that the self-styled "Äsiwaju" has always been a philanderer, a fact that was well known to his celebrity wife.
Gentry's affectation for pretty young woman has reportedly been a constant source of worry to Aigbe and according to the reports, his Oregun hotel, "Laveronique" was a rendezvous for his flirtations.
However, Aigbe turned a blind eye to his extra-marital activities, choosing instead to spend all the money she got from her husband and her several lovers.
The actress who has an 18-year-old daughter from his previous marriage and a six-year-old son with Gentry seemed satisfied with the arrangement. Except of course, for the domestic violence involved.
Reports have it that the current economic recession has taken a serious toll on Gentry's business, leaving him far less bouyant than he used to be.
This was bound to push Aigbe even farther out.
The source says of the 50-year-old Hotelier, "The man has a hotel where Lagos-based actors and actresses use to shoot their movies, but the business was mismanaged and nobody goes there anymore.
"As of now, he doesn't have any business going on for him. How many wide-mouthed actresses can live with that type of hopelessness? The situation has gotten so bad that now Mercy can openly cavort with the politicians that have been on her case since.
"I'm sure that in no time, her shop in Omole will be shifted to Lekki as she has always dreamed of."
According to the source, the last straw for Aigbe was Gentry's latest fling identified simply as Opemititi, a graduate of Covenant University who is reported to have been very close to the actress.
Reports have it that the pair were so close after Aigbe took the younger woman under her wings, even introducing her to her "sugar daddies".
Opemititi was soon flush with so much cash that she dumped her banking job and opened up an interior decoration business.
Aigbe had trusted her so much considering the secrets they shared that it had come as a serious shock when she discovered that Opemititi was sleeping with her husband.
In the last month, she decided to cut Opemititi off and instead, fight it out with Gentry.
According to the reports, the issues boiled over into a fight which the couple could have survived if well handled.
Gentry reportedly asked Aigbe to cook a special meal for him and his friends, but she refused. He reportedly pounced on her and beat her to a pulp.
Aigbe was finally done and began divorce proceedings to bring her second marriage to an end, as soon as she was strong enough to leave the private hospital where she had been receiving treatment.
After years of making a big show of being in love with each other, it is very sad to see their union come to an end.
According to The Net, Aigbe is now holed up in a Magodo apartment while Gentry considers his options in the divorce proceedings.
Gentry seems to be the biggest loser in the equation as the two other women who have children for him cannot stop enjoying his dilemma.
Even worse is the fact that he will lose the little he has left if the case were to swing in Aigbe's favor.
At this point, Aigbe and Gentry are better off apart but we can't help but wonder the effect these happenings will have on their personal lives and fanbase.