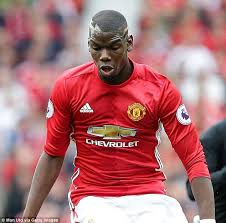 Unlike for Premier League games, tickets are on open sale for Manchester United's Europa League quarterfinal second leg against Anderlecht at Old Trafford next Thursday.
That's been the case for every home European game this season and fans, who've longed complained about not being able to get a ticket, have no excuse: In a couple of clicks, an adult can have a seat in the central section of the Stretford End for £36, a third of the price it costs to watch Barcelona against Juventus two days earlier.
United been drawn with illustrious European clubs, from Feyenoord to Fenerbahce, St Etienne to Anderlecht and, had they played those clubs in the Champions League, Old Trafford would have sold out each time.
However, the Europa League doesn't have the same appeal and that's why Old Trafford has, on average, been 10,000 short of capacity on Thursday nights, with the third tier of the giant Sir Alex Ferguson stand kept empty. Nevertheless, crowds of 65,000 have still made United by far the best-supported team in the competition.
What's more, those fans have watched five straight wins, with 13 goals scored and one conceded. A goalless draw next week will be enough for United to reach the semifinals, but Jose Mourinho's side have scored in their last 10 European games and 0-0 wouldn't be considered good enough by supporters frustrated overall by home form this season. They want United to reach the last four in style, against a side they should have beaten in the first leg.
United played well in the first half in Belgium, taking the game to Anderlecht with a confidence too often lacking in European away games in recent years. Mourinho's side overelaborated at times, but Michael Carrick and Marcus Rashford excelled and visitors were in control at the home of Belgium's top team, a far cry from their last visit when, in 2000, Sir Alex Ferguson's side lost 2-1. Things were not always good back then, either.
Rashford's goal at Sunderland appeared to have lifted the confidence of the young Mancunian, while Paul Pogba, playing in a deeper role alongside Carrick, saw much of the ball and picked teammates out with numerous good passes.
United took the lead when Henrikh Mkhitaryan scored for the fourth consecutive Europa League away game. The 36th-minute strike came after Rashford's shot, from an Antonio Valencia cross, was parried into the Armenian midfielder's path.
"We need to do more lads," said Zlatan Ibrahimovic to his teammates as they celebrated in the compact, 20,000-capacity Constant Vanden Stock Stadium, but United couldn't add to the away goal. They dominated — as they usually do — but being on top in games doesn't lead to victory as often as it should.
Anderlecht equalised with their only one effort on goal, as Marouanne Fellaini and the defence failed to track Leander Dendoncker, and another 1-1 score line was United's 10th this season and represented the same old story repeating itself. Bad luck or poor decisions from referees can be blamed, but not every month: A better team would have won many of the games that United failed to win.
United's hallmark used to be that they finished games strongly, displaying a will to win so powerful that it would get the team over the line time and again. That's long gone, though; since Ferguson's departure, it has been a struggle to hold onto leads. Fans can feel that nervousness, yet on Thursday it was a low-scoring team's profligacy in front of goal that contributed to the pressure.
Carrick was right to call out the sloppiness shown against an inexperienced Anderlecht side that should have been defeated. Doing so would have created a cushion to allow Mourinho more flexibility with his team selection in the key games around the second leg.
"We're better than that," said Carrick after the game. United should be better than that but here we are, in the eighth month of a nine-month season, and improvements remain slight.
A dissatisfied Mourinho again criticised his players publicly when he pointed out the inability of forwards to convert half chances — he could have extended that to Pogba — and poor decision-making in the final third. He wants his side to bury opponents, not draw with them.
United remain clear favourites to go through and reach the semifinal stage of the Europa League / UEFA Cup for the first time. All seven of Anderlecht's previous victories against English sides have come at home; they've never won on the road.
Before the return leg, United have a chance to improve their disappointing home league form and make a big statement in the process, when champions-elect Chelsea visit on Sunday. A 10th Old Trafford draw would hardly help in the pursuit of a top-four finish but, for once, it wouldn't be considered a failure. That's because Chelsea, the last team to beat United in the league back, some 21 games ago, are clearly currently a better side.
Harsher judgments will be made if the gap is as big this time next year. However, while expectations rightly remain high, the reality is that United have flopped badly at home and shown little to suggest they can beat the team with the league's best away record. A draw on Sunday wouldn't be a terrible result.
And, frustrating though United's inability to put Anderlecht out of sight was, nor was the draw on Thursday.