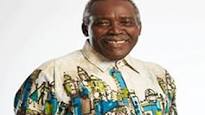 several British television series and international films.
He studied at The Royal Academy of Dramatic Arts in London and has starred in various British television shows and series in the 1970s.
Known as a father figure in the Nigerian movie industry, in 1978, he played the role of President Mageeba in Michael Codron's presentation of Tom Stoppard's play "Night and Day".
In the 1980s, Jacobs starred in several international films some of which include John Irvin's war film "The Dogs of War".
On television he was a cast in TVS's "The Witches" and the "Grinnygog" (1983 series).