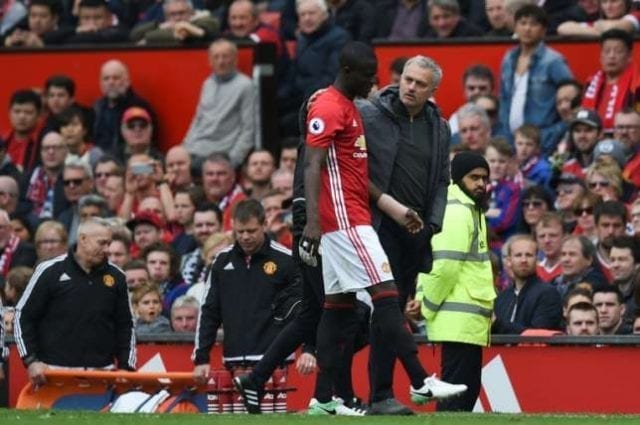 It was no surprise to see Jose Mourinho sign two centre-halves within his first year as Manchester United manager given how short Chris Smalling and Phil Jones fell from the bar set by Rio Ferdinand and Nemanja Vidic.
Eric Bailly looked great in his first season, even if injury, the Africa Cup of Nations and suspensions meant he wasn't ever-present on United's first team. The silly red card he picked up in the Europa League semifinal caused him to miss out on the victory over Ajax in Stockholm.
Mourinho needed to find him a partner, though. The manager seemed to go off Smalling as the season went on. Smalling was the choice for captain in Wayne Rooney and Michael Carrick's absence, only to see Antonio Valencia leapfrog him and wear the armband in the Europa League final.
Phil Jones had a good period when coming back from injury in the first half of the season and formed a surprisingly impressive partnership with Marcos Rojo, but neither are to a standard where you would mount a title challenge when relying on them at the back.
It wasn't much of a shock, then, to learn that United had signed Victor Lindelof from Benfica. The Swede had caught Mourinho's attention and a transfer had been suggested in January, although they were made to wait until the summer.
Mourinho claimed this was a player he knew very well as an avid fan of Primeira Liga and was impressed with his defensive capabilities.
However, Lindelof has been less than impressive in United's preseason games. His poor performances reached a climax when he conceded a penalty in United's victory over Spanish and European champions Real Madrid. He clattered into Theo Hernandez, and Lindelof looking so clumsy in the penalty area has caused real worry for United fans.
Still, if United's victories over Manchester City and Real Madrid have been dismissed as meaningless wins in preseason friendlies, then it's not fair to take Lindelof's performances seriously.
For whatever reason, Mourinho has been reluctant to partner him with Bailly in the friendlies so far, so there is the hope that a more solid partner will bring out the best in the 23-year-old.
Comparisons were made between Lindelof — known as the "Iceman" thanks to his cool demeanour in defence — and Vidic before the transfer was even confirmed. Now those comparisons are being made again, but not for reasons that compliment Lindelof.
United's former captain went on to be one of the best centre-halves in the Premier League era, but his start to life at Old Trafford was fairly calamitous. Along with Patrice Evra, Vidic looked nowhere near good enough for United.
Lindelof hopes that his poor performances are limited to the preseason, rather than when the games actually count. He might well face Real Madrid again in a couple of weeks in the Super Cup final, with Bailly still ruled out of playing in European competition. But Lindelof will be looking to make amends and show what he is capable of.
He's looked on edge since being left on his backside by Giovani dos Santos in United's win over LA Galaxy. He's been overly cautious and his nerves probably haven't been helped by Mourinho trying out new defensive formations, going from three at the back to a more standard four as the games have gone on.
Still, for anyone to make definitive judgments on Lindelof at this stage would be ridiculous. We will more than likely see mistakes from him in the weeks or months to come, as that's what you risk when bringing in young players from different leagues. But he has the potential to be a great player, so fans will certainly be hoping he progresses like Vidic did, rather than following Smalling or Jones' trajectory.
Only time will tell, but Mourinho has watched enough of him to believe Lindelof is worth being patient with.