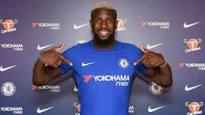 Tiemoue Bakayoko can become a "top player" if he follows the footsteps of N'Golo Kante and improves in possession, Chelsea coach Antonio Conte has said.
"He is always improving," Conte said of Kante. "Now he's very good also with the ball.
"Before, a lot of people told me: 'Yes, without the ball he has great stamina, he is a great worker.' But now with the ball he is improving a lot.
"To be the best player in the Premier League last season was a great thing, and I think this season is confirming this.
"Don't forget, Baka is 23 years old. He's younger than N'Golo. Last season he played in France and now he's adapting himself to this type of football.
"I think he has great quality and now he's very strong without the ball — but with work he can improve with the ball in the same way as N'Golo."
Saturday's win means Chelsea go into a potentially key September run of seven matches across three competitions with momentum.
Manchester City and Manchester United remain more heavily favoured in this season's Premier League title race by some pundits, while expectations for Chelsea's return to the Champions League are seen as relatively modest.
"It's not important for me. It's important to work with my players to try and do our best.
"Don't forget last season, at the start of the season, no one person said Chelsea could win the league.
"We have only to be focused on the pitch and to try to do our best. When you are a coach or a player, expectation is always very high."