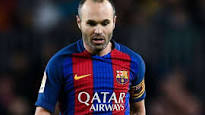 Andres Iniesta says his "head, heart and body" will decide if stays at Barcelona after the end of the season as uncertainty continues to surround his future.
"Talks have been underway for a while, things are going as they're going and my only desire is to have a great season, to be at my best and to win things with the club," he told reporters.
"This is my home and whether I continue or not, it's not something which is distracting me."
Asked why he'd denied a pre-agreement was in place, he continued: "[Because] that would suggest everything is done and that's not the case. The case is a little particular at the moment.
"It wasn't a reaction to contradict the president. I told the truth about the situation and that's all. Whether I continue or not, there will never be any problems. I wouldn't be capable of a personal situation becoming any type of war.
"It's normal in [my] situation to assess things, but we will see. I'm focused more than ever on my work. As for my personal future, we will see. The most important thing is on the pitch, like today.
"I'm thinking about doing well, performing, and my head, heart and body will decide [what comes next]."