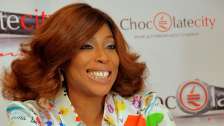 Mo Abudu recently spoke on a bunch of things such as Banky W and Adesua's relationship, the sequel of "The Wedding Party 2", Kemi Adetiba, Ebony Life, her taking director classes and when she will be getting married again.
She was asked when she went from being an HR consultant to becoming a media/ entertainment powerhouse? and when she realized she wanted to do this?
"At that time, I did not see it as going into the entertainment business as such. It was more about creating a platform that would enable dialogue amongst us. The creation of Moments with Mo gave people of Africa a platform to express their views on a variety of topics, social, economical, celebrity lifestyle, political, topical issues and the like. I had worked as an HR practitioner for many years, I had worked as a training consultant for many years.
My job entailed interviewing candidates all day long for a variety of positions the most junior to the most senior. My job entailed standing in front of a classroom full of people and making presentations on company induction programs, at times on leadership, at times on customer service, at times on leadership, at times on project management etc."
"So the switch to now sitting in front of a camera interviewing someone in their life, or what they did for a living was easier to overcome. And realizing I wanted to do this, I have to say came to me, like most of my ideas came to me, deep in the middle of the night. I hear a voice that I know is my God almighty directing my every step. And it's up to all of us to listen. You start to see the signs when you start to see things falling into place.
When I started my journey with "Moments with Mo", I wanted to start with a bang and my bang was my most treasured interview with Prof Wole Soyinka. I will be forever grateful and thankful to him for giving me the opportunity he did to be my first guest on my couch!
Of course I realized very quickly the power the media had to change lives and mindset and very early on in my Moments with Mo days, I created two other shows, "The Debaters", a show that gave our youth a platform for self-expression was sponsored by GTBank and "Naija Diamonds" a show that celebrated our unsung heroes was sponsored by Diamond bank."
"Then came the bigger vision many years later, the birth of Ebony Life TV, a global platform that would be targeted primarily at the youth with a vision and passion to empower and showcase their worth and talent to the world. This journey we took with our partners DSTV and Multichoice Africa. They have given us the opportunity to empower so many and change so many lives. Thank you, Multichoice Africa, for the opportunity."
She was also asked what made what her seem so effortless, and what it took to get this far?
Mo Abudu – PASSION. VISION. FOCUS. HARD WORK. Whats the point if you don't find passion in what you do. As the saying goes, "love what you do, do what you love". For me, passion is the key driver. I have done many things in my life, but one key ingredient in them all at the time of doing them is the passion I feel. I never wake up bored, I wake up excited.
There simply are not enough hours in the day for me to do all the things I want to do! I love being creative, I love making films, finding people's passion, making people productive, training people, finding meaning out of nothing. No matter what we do, we need to find purpose in all the energy from it though, but I thank God almighty for giving me the strength to keep going.