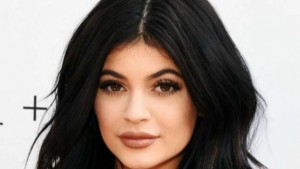 Kylie Jenner launched her cosmetic line nearly two years ago.
And Kylie Jenner, 20, first teased fans with a glimpse of her new 'luxury' $360 make-up brushes on her Kylie Cosmetic Instagram account on Friday.
The make-up mogul later took the detailing of her brushes to Twitter, breaking down the cost and quality of the new items-but most fans were not happy.
In a Twitter post, Kylie said: 'I have developed for you guys the most amazing luxury brushes ever.
'I am very excited! Real brushes don't compare to synthetic brushes. Different performance/quality/everything.
Kylie continued: 'I am 100% down to do an entire synthetic line in the future which will ultimately be cheaper.'
Although Kylie explained to fans why the brush set was so expensive, that didn't stop buyers from voicing their opinions.
One fan said: 'So I've decided this brush set is ridiculous and I haven't even spent $350 on all my makeup together.'
They even told Kylie they would spend it on 'more important' things, 'Thanks but I'll buy food with that money instead.'
As the youngest Kardashian-Jenner received major backlash, she then screenshot different make-up brush sets online that were around the same asking price for hers.
Kylie said: 'I always fight for the lowest price on all my products. Here are some other real brush lines for reference.'
Along with her statement she posted brush sets from MAC Cosmetics, Net-A-Porter, and Kevyn Aucoin.