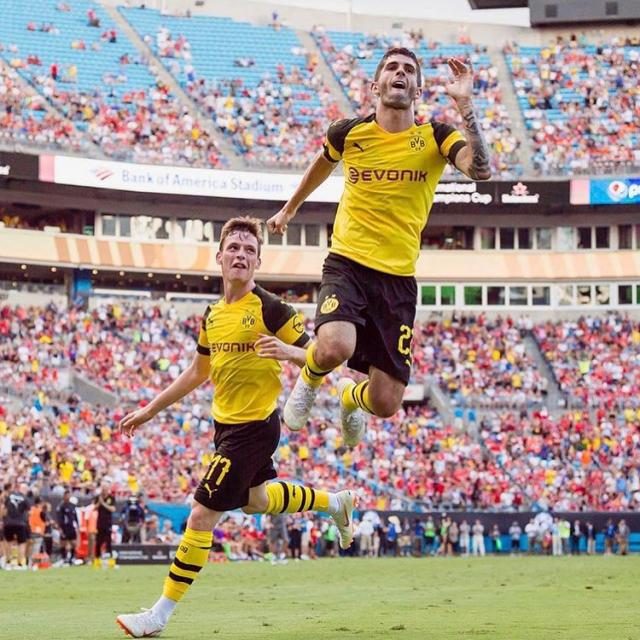 Borussia Dortmund midfielder Christian Pulisic said that the "awesome" Westfalenstadion was a factor in Wednesday's 4-0 win over Atletico Madrid in the Champions League.
Pulisic, 20, told reporters after the match: "The key for today's win was that we fought until the very end. We know that when we play as we currently do, then the substitutes will come on and score more goals."
Axel Witsel scored the opener in the 38th minute, profiting from a deflection. In the second half, substitutes Raphael Guerreiro and Jadon Sancho put their names on the scoresheet with the former grabbing a brace.
The United States international also acknowledged the power of the 12th man in the sold-out Dortmund stadium with an attendance of 66,099 spectators: "Of course, we have quality but we also have an awesome stadium. I think that also made it hard for Atletico today."
Meanwhiile, Witsel, who played an integral part in BVB's resounding win, completing 70 out of 75 passes, knew of the historic magnitude of the result after the game.
"The last time Atletico lost by that many goals was 2009," he said, adding: "Before the game, we knew it was going to be tough because they have a lot of experience in the team. They're used to play in the Champions League semifinal. So we had to play smart and that's what we did. We played really great in the first half. In the second half, the first 20 minutes we allowed Atletico to see too much of the ball, which made them more dangerous. But we remained compact and defended well — the entire team did. And then we killed them on the counter."
The 29-year-old also explained that he did not regret his move from China to the Bundesliga this summer: "Dortmund are the best team I've ever played for in my career because it's the first time for me playing at the top level. I'm not just talking about BVB but the Bundesliga in general.
"Coming here was a big challenge for me but I knew I had the quality to play here. If not, I would have decided to stay in China. I'm really happy. I didn't expect the team to already play so well because we have a lot of really young players and also a lot of new faces."
Witsel's midfield colleague Thomas Delaney, who had to come off after 35 minutes due to a foot injury, agreed with the Belgium international: "Atletico was a good test for our own maturity. It's still early in the season but this win is a massive step for us."