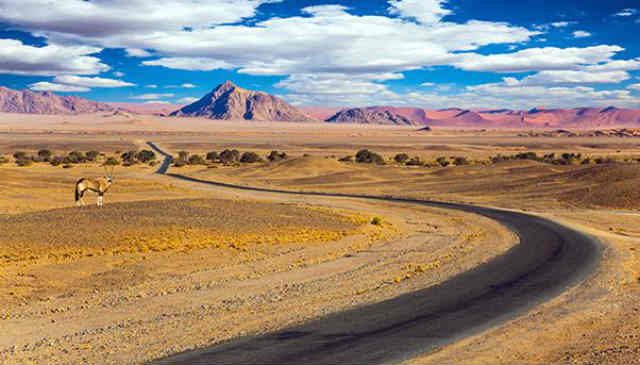 The project of the Trans-African Highway is a 100,000-kilometre road network meant to connect all major cities in Africa and approximately 500-million people. In progress for decades, the continent has seen rapid development over the years, although the persisting lack of infrastructure has a significant impact on the continent.
Due to poor infrastructure, the cost of transportation in Africa, as estimated by KPMG, is around 50-175% higher than other locations. According to "Aid for Trade at a Glance 2017", a report by various organizations including the Organisation for Economic Co-Operation, Africa's current state of infrastructure is an impediment to the continent's development.
The negative repercussions of poor transport are affecting people, businesses, the economy and day-to-day life in Africa. Many who need to drive for work take roads that end up costing them more to drive on than what they are driving for (even upwards of $500), and transport companies are required to obtain numerous documents including permits and licences to cross one border.  With such high costs to simply be on the routes, it severely limits people, businesses, and ultimately the economy.
Snowden M'madi, programmes officer of the Association of Southern African National Roads Agencies, said, "Road transport is an important ingredient for economic growth, and this will be achieved in Africa through the Trans-African Highway."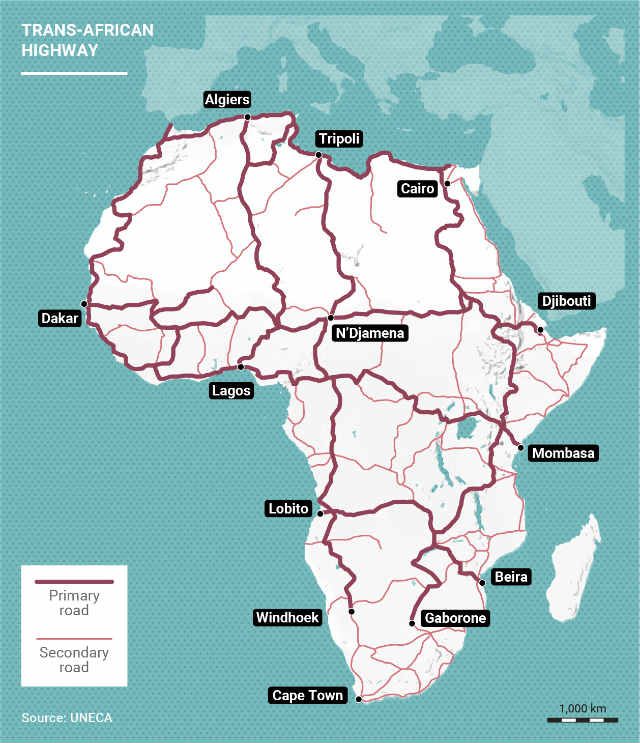 The Trans-African highway will come with a high price tag, but at the same time it will also create jobs and offer opportunities to millions of people. The total cost will come to $47-billion over 15 years and it will yield about $250-billion in economic benefits.
Greater connection between cities and countries of the continent will drive trade and opportunity. The network of the Trans-African Highway will consist of nine main highways, including six east-west routes and three north-south routes. An East-West route that is 80% complete is TAH 7 (Trans-West African Coastal Road) that connects Dakar, Senegal to Lagos, Nigeria. A North-South route that is almost complete is TAH 2 (Trans-Saharan Highway) that runs the 2,799 miles between Algiers and Lagos. Most countries will be served via the road network, except Burundi, Eritrea, South Sudan, Rwanda, Somalia, Malawi, Lesotho and Equatorial Guinea.
Cities that have been landlocked and ultimately limited to trade due to restricted access to the sea will now have access, such as the opportunity provided from the highway running from Cairo to Dakar as well as Lagos to Mombasa.
Two projects that are actually improving efficiency in Africa are the lines between Ethiopia and Djibouti and the East African Railway Master Plan. The now open line between Ethiopia and Djibouti came at a cost of $4.2 billion and is one of the most unique services, as it is electric. It is expected to make the biggest difference for trade, as one train can carry the same load as 200 trucks. The East African Railway Master Plan is a $13.8 billion proposal that would improve on the existing infrastructure that runs along countries such as Uganda and Ethiopia.