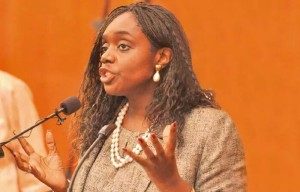 The Minister of finance, Kemi Adeosun has revealed that the Federal Government will pump N350b into the economy, to boost it.
Adeosun also said what the government wants to do is to push money into the economy to jumpstart the economy.
The minister also revealed that the government has released over N420b, which was invested in the power, works and housing sector of the economy.
She said "What government wants to do is to step in and begin to spend and pushing more money into the economy and then get things moving again.
"Since the budget was passed in May we have released and cash backed fully N420bn capital releases. As we speak now, we are about releasing another N350bn that's between May and now.
"One of the sectors we spent the money on, of course the largest has been power, works and housing. Quite a lot has gone on defence because we need to rebuild the credibility of our army to continue in their efforts in the new phase, interior, transport."
The Minister revealed that the agricultural sector received substantial funding, and also assured Nigerians that the recession will end soon.