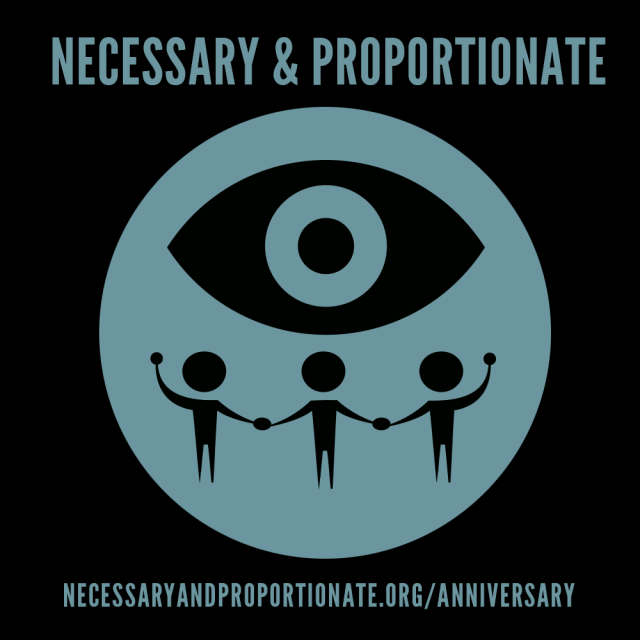 This is a guest post from Yana Welinder and Stephen LaPorte, Legal Counsel at the Wikimedia Foundation.* If you have comments on this post, you can contact Yana and Stephen on Twitter.
Between 15th-19th of September, in the week leading up the first year anniversary of the 13 Necessary and Proportionate Principles, EFF and the coalition behind the Principles will be conducting a Week of Action explaining some of the key guiding principles for surveillance law reform. Every day, we'll take on a different part of the principles, exploring what's at stake and what we need to do to bring intelligence agencies and the police back under the rule of law. You can read the complete set of posts at: https://necessaryandproportionate.org/anniversary. The Principles were first launched at the 24th Session of the United Nations Human Rights Council in Geneva on 20 September 2013. Let's send a message to Member States at the United Nations and wherever else folks are tackling surveillance law reform: surveillance law can no longer ignore our human rights. Follow our discussion on twitter with the hashtag: #privacyisaright
Wikipedia Is Built on Transparency
The mission of the Wikimedia Foundation is to empower people around the world to develop freely licensed educational content and to globally disseminate that content. We believe that transparency and user notification are essential to the success of that mission. Keeping users fully informed of our activities and our dealings with government authorities gives them the necessary freedom to share openly and safely.
While new technologies have empowered free speech and access to information on the Wikimedia projects and on the Internet as a whole, they have also enabled governments and organizations to monitor speech and activity at an unprecedented scale. In our current digital environment, and especially in light of the global surveillance revelations beginning in 2013, people are understandably wary about privacy and about their personal information being accessed by unwelcome parties.
We believe that transparency is a vital solution to this climate of uncertainty. Wikipedia, the other Wikimedia projects, and the rest of the Internet cannot flourish in an ecosystem where people are hindered from speaking, reading, sharing, and creating freely. We therefore believe that we have an urgent responsibility to inform users about our dealings and about potential threats to their privacy.
In response to these concerns, we recently issued a Transparency Report that sheds light on requests for user data that we receive from governments and private parties. It shows that we only provided information in 14% of all cases over the past two years. We fight back against vague and overbroad requests, and in every case, we carefully evaluate each request and notify users when possible that their information is being asked for. In certain cases, we may fund assistance for users to fight an invalid request under our Legal Fees Assistance Program or Defense of Contributors Program. Often, we will not even have the requested data given that we purposefully collect very little non-public information and retain identifying information for only a short period of time.
Transparency is a core value of the Wikimedia movement: anyone can see how a Wikipedia article has been created, contribute to the software that runs Wikimedia projects, or learn about the Wikimedia Foundation's activities. Where possible, we aim to do our work in public because we believe in decentralized decision-making and accountability to the people who create the Wikimedia projects, to donors, and to readers. Transparency and public oversight, however, should not end with the Wikimedia Foundation. In the same way that projects like Wikipedia rely on open practices, the public cannot thrive without transparent and publicly accountable institutions.
Generally, companies cannot be transparent with users if they are legally restrained from providing notice, such as by a gag order. The Necessary and Proportionate Principles calls on governments to protect transparency by "not interfering with service providers in their efforts to publish the procedures they apply when assessing and complying with State requests." Companies must have the freedom to be clear and transparent with their users, so that users can trust both the websites they visit and their government.
The Necessary and Proportionate Principles provide a good framework for pushing governments to stand up for our Internet freedoms. The growing chorus of organizations releasing transparency reports, including the Wikimedia Transparency report, reminds us that organizations have a role to protect users and provide transparency when governments and abusive parties put our freedoms at risk.
* Many thanks to Joseph Jung, Wikimedia Legal Intern, for his help in preparing this post.
Related Issues:
International
Surveillance and Human Rights
Share this:




|| Join EFF
Source: Electronic Frontier Foundation (EFF) – eff.org
Support InfoStride News' Credible Journalism: Only credible journalism can guarantee a fair, accountable and transparent society, including democracy and government. It involves a lot of efforts and money. We need your support. Click here to Donate