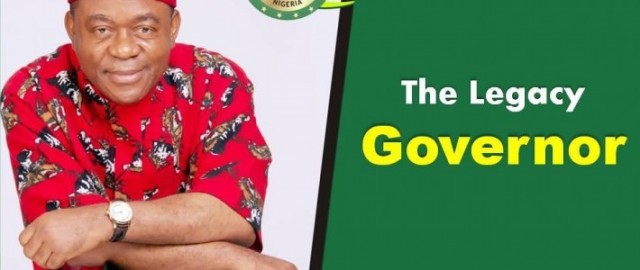 Common attributes of successful leaders, whether born with the proverbial golden spoon in the mouth or fortunate enough to have had their nuts cracked for them by the proverbial benevolent spirit, include great power of vision, focus, large heart of dedicated service and patriotism. Analysts of world affairs are also of the opinion that quality leadership fast tracks the development drive of their societies by making effective and efficient use of available human and material resources.
The third democratically elected Governor of Abia God's Own State, Chief T.A. Orji (Ochendo) belongs to this class and so has uniquely proven himself an innovator, servant leader in bureaucracy and politics and who is dedicated to human and infrastructural transformation of the Abia State. Emerging from the realm of the civil service to that of political leadership of Abia State, Governor T.A. Orji has become a celebrated national case study exemplifying true leadership, humility, hard work and achievement notwithstanding challenges on his way.
Indeed, the admonition of our Lord Jesus Christ to Christians to let their light so shine before men and women that they may see their good works and glorify their father who is in heaven, has found true expression in the life and governance of Governor T.A. Orji.
With diligent implementation of his people-oriented policies and programmes, Governor T.A. Orji has indeed strategically made tremendous difference in the political engineering of the state since her creation on August 27, 1991.
One of such positive testimonies is his political recruitment of ebullient professionals, tested men and women representing, in equitable terms, the three geo-political zones of the state, in the State's Executive Council and other segments of the state's political and administrative structure.
This has no doubt engendered a great sense of belonging among all strata of Abia populace and positive inputs into the socio-economic and political system resulting in steady growth and development in all sectors of the economy.
Today, Abia State is witnessing peace and tranquility among the diverse Abita populace; this has hardly been seen before, because politicians of different party blocs seem to have found a common platform on which to ventilate their ideas in a progressive format.
This has engendered unity of purpose. After all, has it not been said, time without number, that peace and unity remain the strong pillars of social equilibrium and human advancement.
Having created the strong base for enhanced social cohesion among Arians, the Governor T.A. Orji administration has equally concretized human capital development through various skills acquisition programmes for Abia youths. The result is that thousands who would have been dependents are now breadwinners and agents of economic development. Apart from the training of thousands of youths, the trainees were armed with the relevant starter parks and funds for the smooth takeoff of their learned trades.
The health and housing sectors of the state's economy have also enjoyed robust attention of the Governor T.A. Orji administration. These feats have robbed off on the health care delivery of Abians. For the first time in the history of Abia State, we have the international standard specialist diagnostic and dialysis centres both in Umuahia and Aba, several general hospitals have been built and more are being built in addition to over 720 primary health centres already constructed and equipped. The feat also include the 100-bed hospitals built in nine out of the 17 local government areas of the state.
Governor T.A. Orji also provided ambulances in all the 17 local government areas in the state for the movement of patients to hospitals. He also provided hundreds of tricycles in this regard.
The relocation of old markets in Umuahia, the state capital, and establishment of new ones such as the Modern Market in Ubani Ibeku and the Industrial Market in Azueke Ibeku not to talk of Ohiya Mechanic Village, is a master stroke that has given the state capital a facelift. It is a pragmatic step to broaden the infrastructural landscape and economic base of Umuahia. Furthermore, high-rise buildings and modern architectural edifices now dot the landscape of Umuahia.
These include the International Conference Centre, New Workers' Secretariat, New Government House, Joint Allocation Committee building complex, ASUBEB secretariat, to mention but a few.
The dispensation of justice in Abia has been given a new definition through the building of modern High Court complexes in Umuahia and Aba.
Road construction as a catalyst for economic and social transformation has equally captured due attention of the administration of Governor T.A. Orji. For instance, many roads in Aba, the commercial nerve centre of the state and other cities like Umuahia have been reconstructed while new ones have been embarked upon in the local government areas.
Take it or leave it, Governor T.A. Orji has impacted positively on all sectors of the state's economy and has reconnected the political web of the state to the Federal Government thereby promoting national unity, better coordination of developmental programmes and provision of dividends of democracy.
Little wonder, the strings of national and international awards to the Governor T.A. Orji seem unending. It is indeed an acknowledgement of his hard work and commitment to excellence.
What is natural, befitting and beneficial for the present and future generation is to give the Governor the needed continued support, cooperation and suggestions that will encourage him to do more.
For Governor T.A. Orji, he is a confirmed bridge builder, restorer of hope whose legacy projects will stand the test of time. Bravo the Legacy Governor!
Tags: abia state, Ajunwa, Charles, Government, Ochendo, T.A. Orji, Umuahia
Abia State Government Press Release