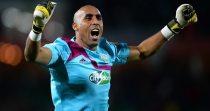 What better stage than the FIFA Club World Cup to change perceptions about a player's qualities? Raja Casablanca goalkeeper Khalid Askri has used the tournament to do just that. The shot-stopper became infamous worldwide for a series of incredible blunders caught on film, and which subsequently went viral on the internet.
It was in September 2010 that Askri acquired notoriety as "the unluckiest goalkeeper in the world", after saving a penalty and immediately turning to celebrate with the crowd, only to glance back in horror as he saw the ball spin and dribble slowly into the net. Worse than costing his team FAR de Rabat their place in the Moroccan Cup, as the goal sent Maghreb de Fes through to the next round, was what happened next. The video exploded on social networks and was viewed by ten million people in less than three days.
Hot on the heels of that embarrassing moment, Askri was again the centre of attention a few weeks later as another video spread all over the world. This time he was let down by his footwork, allowing an opposition forward to nip in and score as he dallied with a back-pass. The goalkeeper was so ashamed of the mistake he ripped off his shirt and ran straight down the tunnel, ignoring the pleas of his team-mates to return.
Shaken by the mistakes in that nightmare month, Askri asked to leave FAR de Rabat, but he found comfort in the solidarity shown by fellow professionals. "These videos made me very well-known. It was because of them that I had lots of goalkeepers from all around the world calling me to show their support, even (Gianluigi) Buffon," Askri told FIFA.com. "I hope he saw the game (against CF Monterrey), because he would have seen a different player," added the Moroccan, who also made a point of thanking Montpellier's goalkeeper coach, Dominique Deplagne. "He helped me a lot at that difficult time."
Turning it around
Nearing 30 years of age, Askri had to practically restart his career, moving to modest outfit Chabab Rif Al Hoceima before signing for Raja Casablanca in 2012. One year later he again was on the world stage, but this time for all the right reasons with a wonderful display of goalkeeping against Monterrey. Half a dozen superb saves denied the Mexicans, including a one-on-one block that prevented Neri Cardozo from netting what in all likelihood would have been the winner. Askri was the hero as the Moroccan champions reached the semi-finals of the Club World Cup, where they will faceAtletico Mineiro.
"We tend to dominate our opponents, meaning the opposition usually does not mount many attacks. This time it was different. They created lots of chances and I had the chance to show I am a good goalkeeper, making great saves," explained Askri, shortly after being named man of the match and before leaving the Agadir Stadium that was still rocking with the huge celebrations from the local fans.
"This has been a dream come true," he said. "We wanted to show Moroccan football in a good light, and not just Raja Casablanca. It's been a long time since the country has had a good result to celebrate. Now we have nothing to lose, but we want to make the final. Playing against a team containing Ronaldinho is another dream for us."
In the right place
Indeed, Raja's dream is also a moment of personal fulfilment for Askri. After overcoming tough times in the past, he is today proud to be at the forefront of happier days for the club he loves, a passion he did nothing to hide when he was playing for FAR de Rabat. His affection for the club started in 2000, when the club from Casablanca took part in their first Club World Cup, in Brazil.
"I remember watching that tournament on television. Raja had a top-drawer team, and that's when I fell for them. Later this caused me problems when I was at FAR, but it only shows how much I love this club," explained the smiling goalkeeper. "Everyone was proud with what they achieved, even in the defeats against Real Madrid. I hope we make people equally proud this time round." Shining in a Club World Cup, showing a new image to the world, and playing for the team he always supported – Askri has definitively found his place.
Source: fifa.com
Confederation of African Football News