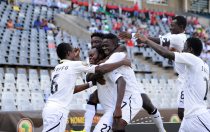 The last day of group matches in Group C of Orange African Nations Championship South Africa 2014 provides a tale of two contrasting goals but built on same mission. Ethiopia without points or goals from after two games want to exit CHAN on a high note but Ghana needs at the very least a draw to reach quarter-finals. The two sides clash on Tuesday 21st January night at Mangaung's Free State Stadium. Ethiopia defender Beyadgelegn Eliyas told Cafonline.com ahead of the encounter that the fans back in Ethiopia are already disappointed by their elimination from the competition and the teams wants to repair some of that damage by wining against Ghana, "We will be playing for pride. I am confident we are going to beat Ghana. We need goals and of course we didn't manage a goal till now. But we have to go back home with three points. My teammates and l are very well prepared to make something of tomorrow's game." Said Eliyas
The St George FC defender came on as a substitute for the captain of Walia antelopes Debebe Degu during the second match against Congo. His performance did not go unnoticed and it may well be that he will start against Ghana but the 23 year old says the fact that they are out of contention may just release the pressure of expectation and allow the team to play flowing football and attain a positive result. Eliyas says "lack of finishing was our failure. We have created so many chances but we couldn't make them count. So we need to get better on that.
Meanwhile Ethiopia's opponents on Tuesday , Ghana have been seeking to dispel any fears of goal crisis after in-form striker Yahaya Mohamed sat out training due to suspension ( for two yellow cards in two games ) that sees him miss the Tuesday night match. "We brought a lot of strikers so if one is not playing the next match I think others are ready to compete," Ghana coach Maxwell Konadu said "Yahaya is part of a squad and we will not have him against Ethiopia but in a squad replacements will be brought in. Whoever will be selected will perform well and we are looking to put on an improved show from last game. Our play has got better with each game and the players are aware of the importance of this match and l expect a competitive match. Ethiopia is a good side and come out to play with determination and hunger. I am expecting the same from my side." Said Konadu
Ghana currently sits in second place on four (4) points with Libya in first position on same number of points. Congo is on three (3) points and in third place with pointless Ethiopia bringing up the rear. Congo and Libya clash at Peter Mokaba Stadium in Polokwane in a match to be played at the same time as Ghana vs Ethiopia game. With two top sides proceeding to the quarters, any of Libya, Ghana and Congo are still with a chance to qualify.
Confederation of African Football (CAF) News