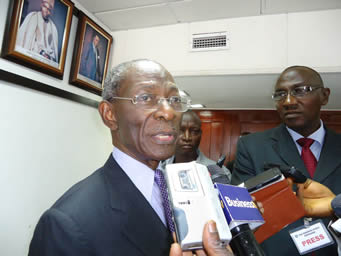 Ahead of the 54th Independence Anniversary on Wednesday, Oct. 1, elder statesman and technocrat par excellence, Dr. Gamaliel Onosode, has expressed deep sentiments about the country, saying he was disappointed with the level of progress made so far.
The industrialist, who spoke yesterday from the United Kingdom, where he has been receiving medical treatment, however, said he is not ready to give up on the country.
He said he would wish Nigeria and its leadership are committed to higher standards of morality at all levels of governance. "It does not matter at what level people seek office, they should think of what to give back to the country and not what they could get out of it", the former presidential candidate of the now defunct All Nigeria People's Party, ANPP, said in a telephone conversation with The Guardian.
"Those, who love me, love me for the same reason others hate me. I have strong views about my country, Nigeria and I have no other home; I never believed in any other country. Nigeria is the only country I know, have and love. God bless Nigeria", Onosode concluded.