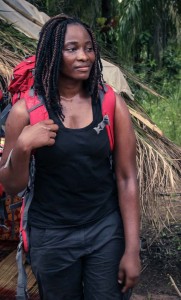 While a lot of you are watching the very dry BBA show this year, Nigeria's Gulder ultimate search is hotting up.
The battle for the grand prize of 10 million Naira and a SUV is getting more intense as the Gulder Ultimate Search warriors make steady progress in their quest to find the General's War Helmet.
One of the viewers' favourites, beautiful Noela Iroh could no longer stand the rigours and intensity of the jungle, as she gave up during a task and became the next contestant to be evicted from the show.
Noela, a 25-year old actress and a budding film-maker, was unable to complete The Wall task after experiencing difficulties in climbing the steep wall and retrieving the required set of tiles. After several unsuccessful tries, she gave up on the climb and subsequently, on her dream of becoming the ultimate champion.
When asked by the Anchor Man, Chidi Mokeme what went wrong, Noela explained: 'My hands are too weak, I've tried, I don't know what went wrong sir, I'm actually surprised and I'm very disappointed'
Shortly after the tasks were completed by the other six contestants, Chidi Mokeme commanded them to go back to base camp, Noela attempted to proceed but was stopped by the anchorman who said: 'Not you Noela, you are hereby evicted from the Gulder Ultimate Search, you will return to base camp, pack your things, burn your totem and leave the jungle now.'
A night before, Sharon Robinson, who was the cook of the jungle, got evicted from the show after failing to finish the Essential Shape task.
The six remaining contestants are Nne Cosy Joe, Ubachukwu Chinedu, Otto Canon Chimenem, Afolabi Emmanuel Olusegun, Appi Samantha and Addoh Evi.