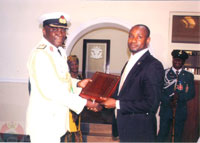 The Economic and Financial Crimes Commission, EFCC again proved its mettle as repository of some of the best talents in law enforcement in Nigeria as its officer, Austine S. M. Adache clinched the top diadem as best student from other departments/agencies in the just concluded Defence Intelligence Officers Course (DIOC) 13/2014 at the Defence Intelligence College, Karu-Abuja.
Adache, a member of Course 1 Cadet Officer Programme, distinguished himself in academic and general conduct among the participants from other agencies that attended the course. Citation from the college indicates that the honour is bequeathed on a course participant who exhibit exceptional brilliance, hard work and discipline.
The 6 months rigorous course that held from June 30 –December 12, 2014 drew participants from the Nigerian Navy, Nigerian Air force, Prisons, Customs, Immigration, NDLEA, Defence Intelligence Agency, Nigeria Police and the Nigerian Army.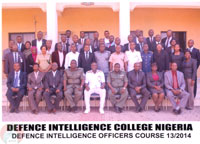 The course which is also designed to foster inter-agency cooperation covered the areas of intelligence-driven investigations, espionage, and counter-terrorism, among others.
For his effort, Adache received a plaque and certificate from the Commandant of the College, Commodore M. A Emuekpere.
Media & Publicity Unit