My Digital Press Agent's Monica Hardwick Pens "#GetASocialMediaPlan" for Every Social Media User
Playwright Monica Hardwick announced today that she will release her ebook, "#GetASocialMediaPlan" next month.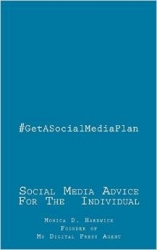 New York, NY, May 25, 2015 –(PR.com)– Monica D. Hardwick of My Digital Press Agent announced her plans to release her ebook June 2015.
Inside the quick read, the new author shares short stories, examples and benefits of individuals having a personal plan and why a family plan along with a professional plan are so important. While the idea of the ebook is from a 2013 teen workshop Hardwick orchestrated, the book may not be teen friendly. Within the ebook she shares information from Technology expert Adria Richards' tweet from a few years ago regarding a penis joke that most people outside of the technology and digital world know nothing about. As with the workshop, Hardwick hopes readers will complete it with their own rough draft of their very own social media plan.
My Digital Press Agent is a social media marketing management firm based out of Florida.
My Digital Press Agent clients are from various industries across the globe. The company generates outstanding results for clients through four expert practice groups: Marketing & Communications | Marketing strategies that create identity and awareness. Entertainment | Management of unique artist brands and management of their digital content assets. Business Acceleration | Business & Sales strategy consulting that increases profits. Internet & Mobile Solutions | Online and wireless solutions that drive business and sales.