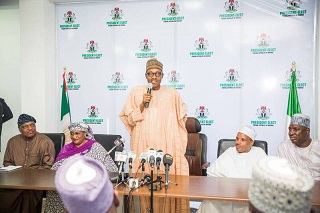 Nigerians have been assured by the President-elect, Muhammadu Buhari that their trust in him would not be betrayed as he assumes office on May 29.
The president-elect gave this assurance while receiving a delegation of supporters of the All Progressives Congress from Taraba State at the APC presidential campaign headquarters in Abuja on Wednesday.
The delegation, which was led by the APC flag bearer in the last governorship election, Senator Aisha Alhassan, was in Abuja to congratulate Buhari on his electoral victory.
Gen. Buhari said he was overwhelmed by the sacrifices made by Nigerians, whom he said risked everything not only to vote, but ensure that their votes counted.
He said, "I assure you that the government that the APC will eventually put in place will be effective. We will never betray the people because people risked everything; some lost their lives for this cause to make sure that they voted the leadership they believe in, the leadership they trust in this multi-party democracy".
The president-elect said 2015 would go down in Nigeria's history as the most glorious year because Nigerians deliberately voted and their votes were allowed to count.
According to Buhari, most Nigerians agree that he is not a rich man but that he counts himself lucky that despite not having a deep pocket, Nigerians believe in him and the APC.
While encouraging Sen. Alhassan not to give up, the former head of state urged the people to continue to support those they feel would serve them.
"Aisha, don't give up. You are younger and this is your first attempt. I contested three times and this is my fourth attempt. I hope that you succeed in court. I hope you will win in the court", he told her.
Buhari continued, "But we thank God for technology – PVC and card reader. If not, this luck we had with technology and the insistence of constituencies to make sure they are used. In two political zones where they were subverted, the people wanted to vote, but they were not allowed to vote.
"They continued with what they used to do – go to their party offices or their sitting rooms, write the results, go to radio house and television house and announce the results and say whoever does not want the results, should go to court.
"How many people can go to court when they are struggling to get the next day's meal? Where will they get the millions to give to those Senior Advocates of Nigeria? I was able to do it because of the goodwill of Nigerians".