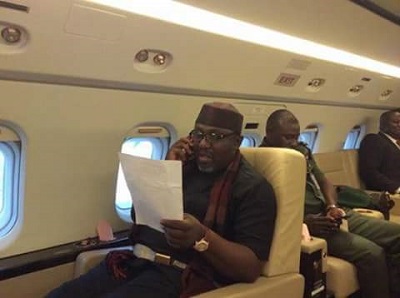 Imo State Governor, Rochas Okorocha, on Thursday said he bought his private jets before he became governor in 2011, contrary to speculations in the media that he has bought two private jets since becoming governor.
Okorocha, who was reacting to calls by workers in the state that he should sell his private jets and use the proceeds to pay their salary arrears, described the claims as a total falsehood fabricated by those who are bent on discrediting his administration's achievements.
In a statement signed by the governor's Chief Press Secretary, Mr. Sam Onwuemeodo, the state government said, "as a government, we want to deny with high sense of honesty that since May 29, 2011 when Owelle Rochas Okorocha became governor, he has never bought any private Jet either directly or by proxy. Having made this denial let those behind the allegation make their facts public to fault our denial.
"The period Governor Rochas Okorocha bought Jets was years before he was elected, during the Olusegun Obasanjo regime when some of the presidential jets were auctioned. The governor bought jets then under the aegis of Lamonde Aviation, alongside few other Nigerians. Since he became governor, he has never bought any private Jet".
It further stated: "Again, the Debit Management Agency penultimate week published the states and their respective debt profiles. And in the case of Imo State, they published N37 billion which was far from the hundreds of billions the opponents of the government have been claiming to be the debt status of the state. And the N37 billion debt include the ones owed by the previous administrations. The good story is that we have been vindicated on that".