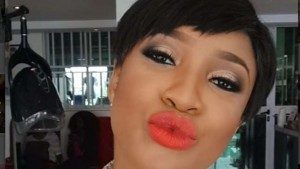 Well she has been leaving indications here and there to be picked up but knowing who she is, you can't blame people for waiting for something more concrete.
And finally, Tonto Dike has put it out.
She has been frolicking with a man we have come to know and accept as Mr. X and we enjoyed the jolly ride that is her love life with a new chapter at every turn. But still, we didn't take her serious.
Even when news made rounds that Mr. X may indeed be married and have kids, it only affirmed it for us all that it was all fun and games.
And then she began the subtle change. First by changing her name on Instagram to Mrs. X right after we thought they would break up following his marriage rumors on July 20th.
Then the official change just a few days back.
And now, her engagement pictures and possible rumored pregnancy.
Now we know she's serious.
Source: Linda Ikeji