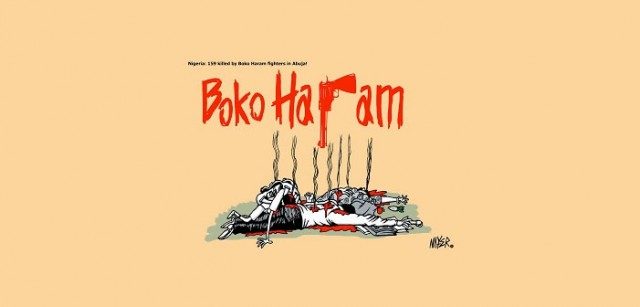 Boko Haram Islamic insurgents in Nigeria have become the world's deadliest extremist group, edging out the Islamic State group to which it is affiliated, according to a new report.
The Global Terrorism Index says deaths attributed to Boko Haram increased by 317% in 2014 to 6,644 compared with 6,073 blamed on IS.
Boko Haram pledged allegiance to IS in March and calls itself that group's West Africa Province.
The two are responsible for 51% of deaths by terror worldwide, according to the report published by the New York City-based Institute for Economics and Peace.
Amnesty International has blamed Nigeria's military for the deaths in detention of another 8,000 civilians.
The new report says nearly all terrorist attacks have occurred in countries where political violence by governments is widespread.
Later, police said two women suicide bombers blew themselves up at the entrance to a busy market in Nigeria's second city of Kano, killing themselves and three other people.
The death toll could be higher, with witnesses saying they counted at least 20 bodies.
Wednesday's twin bombings come the day after a night attack by a suicide bomber killed 34 people and wounded 80 in the north-eastern city of Yola.
Officials blamed the attacks on Boko Haram.
Hundreds of people have died in bomb attacks in Kano, including at the same mobile phone market targeted on Wednesday, though the northern city is far from the Islamic uprising's main theatre of operations in the north east.
Some 20,000 people have been killed in the six-year-old Islamic uprising that has spread to neighbouring countries.
[Press Association]