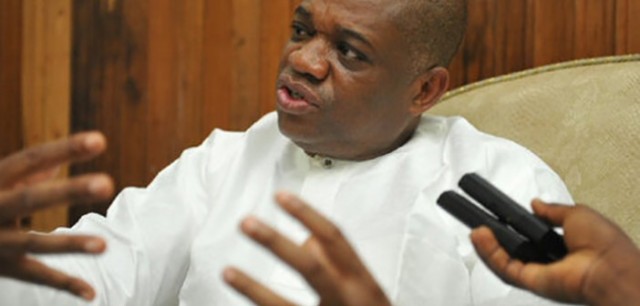 Amid sliding value of the Naira and mounting complaints by private sector players on the tottering state of the economy, all appears not to be well with the Nigerian state.
But former Abia State governor, Dr Orji Uzor Kalu, says it is not time to despair because President Muhammadu Buhari is making efforts to rework the economy.
In an interview with journalists at the Murtala Muhammed International Airport, Lagos on arrival from the United Kingdom, at the weekend, Kalu urged that Buhari should be given enough time to deliver on his promises, as he grapples with the burden of tackling Nigeria's multi-faceted challenges.
Excerpts:
What is your take on plans by some state governors to either sack or cut down on salaries of civil servants?
It is a truism that all is not well with the state of Nigeria's economy. The current situation, if the truth must be told, is that we are in dire straits. The times call for deep reflection and serious financial re-engineering by managers of the public sector.
This requires creative, strategic and visionary leadership at all levels because the reality is that the resources accruing from crude oil sales are dwindling by the day on account of falling oil prices in the international market. Above all, leadership is about the ability to take the right decisions at the right time by putting the people first.
State governors should cut down on frivolous expenses in order to meet their financial obligations, especially workers' salaries and payment to pensioners. If it means converting a portion of the security vote to fix serious responsibilities, it is worth it. This is because many state governors allegedly siphon the so-called security vote. We must learn to live within our means as a way to sustain a decent life. Governors should leverage on other revenue sources to complement federal allocations. The era of depending on a mono-product economy is long over.
Don't you think that in the face of dire economic realities, President Buhari and his team should hammer out serious economic interventions or measures to revive the economy?
I cannot agree with you any less on this matter. In fact, any casual observer of Nigeria's economic situation knows that things are not looking up. As some observers have put it, the economic house is falling and if urgent steps are not taken, we may be heading for trouble economically.
Put in a parable, we could situate the economic reality by seeing President Muhammadu Buhari as the manager of the economy; as a distributor, who had distributed goods to his customers but when he came back to the market, all his customers closed the door. He did not see anybody to collect money from. He called somebody and said, 'break the door' but nothing was seen inside any door he broke. So, he went back to all the shops, there was nothing again inside the shops; he did not see the goods he supplied them and he did not find any money that the shop owners were supposed to pay. To me, that is the dilemma of the president. He did not tell me, but this is what I feel.
I feel strongly that it will take the president the next two to three years to sort out this problem. Nigerians are always in a hurry and I am surprised. Change does not come easy. The president is doing what he is supposed to do. The situation is only comparable to somebody who supplied goods and could not get his money back.
How do you think the president feels in this dismal scenario you have painted?
The president should be having hypertension now, but I am sure he is confused himself because the goods he supplied are still there, even if he does not have his money.
So, that is the position the president is right now. You know I am not a member of APC; so, I do not speak for them. What I speak is the truth and people should not expect President Buhari to do miracles. I am not a member of his party, but he is a very close friend of mine and you should not expect him to do miracles.
I do not expect him to do miracle because there is no miracle in this business. He has to take his time. The situation is made worse because oil prices have gone down and everybody is hoping that there will be a slight change in the third quarter of 2016.  Nigerians just elected their president for change and they want to see the change immediately.
But it is not possible. The president has to take his time. He has to take account of what he has seen and what he has not seen. From what I am hearing, they have not even started to ask questions about where our money has gone. So many people have said that many officials still need to answer some questions.
My reading is that President Buhari, as our leader, is very unlucky. He came into the saddle of leadership for a change at a very difficult time.
What is your assessment of efforts by the Buhari administration to recover funds allegedly looted by the past regime?
I think President Buhari is on track in his efforts to recover looted funds. The anti-corruption measure is not a drawback, as some critics may want to see it. Given the malfeasance that took place in the last regime, the president is handling the situation very well. It is not a drawback at all. Buhari should know who to call because there was massive looting. I am sure most people did not want to listen to some people like us, who were shouting about what happened in the last administration.
We said that there was corruption and the corruption that we saw in the last administration was very high. I told airport correspondents in one of my interview sessions, when I landed at the Lagos Airport, that there was corruption in the last regime. Though I am a friend of the former president, I speak the truth. I told you people that I came from the Emirates (Dubai), and I have never seen the kind of corruption I saw then in Nigeria. People were carrying the dollar by hand.
Journalists confronted me, asking why I could not advise the former president and I remember telling them that beyond friendship, the country comes first. You people asked me if I was a friend of Jonathan and I said 'yes, I am his friend and so what?'
Our country comes first. So, I am still standing here. If Buhari does a bad thing tomorrow, I will caution him. I had written letters to former president Obasanjo, I had written to Jonathan, although the one to Jonathan was not made public; and I wrote to Yar'Adua, when he was president. So, I am sure Nigerians should be patient with President Buhari.
He might not do much in terms of infrastructure but he will clean up the cobwebs. There is a lot of cobweb in the system. We have lost process totally. I no longer see the type of process I used to see when I was governor of Abia State. People should follow processes in doing something. You know businessmen are in a hurry to make money. I am losing money. Paying 10,000 workers is not easy. So, it is a problem. We need to be patient.
How do you think the government could fix the system?
This calls for serious re-engineering in policies to rework the economy. We need to move away from dependence on crude oil receipts. I have been shouting for eight years, that there is need to diversify the economy. At a point in time, I met my governor and I said that we must go back to manufacturing, farming production. There is a large market in West Africa and nobody is talking about that market, nobody is talking that we can produce; nobody is talking that we can go to farm. Can you imagine that Nigeria is still importing maize and palm oil?
What do you think about the current administration's approach to fighting corruption?
I am convinced that the president is sending the right signal on how to fix the country by coming all out to fight corruption though his approach may need some modifications. I think Buhari should adopt the process methodology, not the personality or hate model. So, I think the president should not do what Wole Soyinka proposed, when he warned former EFCC chairman, Malam Nuhu Ribadu, about his approach of going for suspects and their family members.
Remember, Soyinka advised Nuhu Ribadu then, if he could not catch a governor, he could catch his mother. This was what Wole Soyinka said in a public forum.
I am confident that the approach should be radically different. Buhari should not adopt that approach of, if you cannot catch this governor, catch his mother; a mother that did not do anything.
This was the practice in the past and people kept quiet. So, I think Buhari should be just in his judgment. They should be thorough. Nobody is locking anybody up. I was kept by EFCC for two weeks.
Are we following the right processes this time round? The methodology adopted by EFCC now has changed. Now, suspects are questioned and told to go home. Any day they want to charge them to court, they will charge them to court; which is a civilised way of doing it. But, it is not everybody that they will tell that because there are some who have to be detained to be able to get more information and the money they looted from them. I am not saying that Buhari is totally not getting it right as to what they are doing; but the right process must be adopted.
Are you comfortable with the strategies adopted by government in fighting insurgency in the North, mindful that if there is no peace, it may be difficult to attract investors into the country?
I think President Buhari is on track because he has adopted the right strategies by engaging sub-regional efforts to tackle the challenge of insurgency.
As part of the transnational strategies he adopted on assumption of office, he visited the heads of state of neighbouring countries, including Chad, Togo, Benin Republic, Niger and Cameroon to secure the commitment of leaders of those countries on how to collectively stamp out insurgency. This strategy explains the successes so far recorded. Recall that a few days ago, Cameroon said they had caught some insurgents. The strategy is paying off.
What is your reaction to the lingering agitation for self-determination by Movement for the Actualisation of the Sovereign State of Biafra (MASSOB)?  Are you comfortable with the way government is handling this potential signal of Nigeria's disunity?
First, I think the signals we are getting from the agitation are quite intriguing in many respects. But as much as government should not disregard the agitation, the strategy of going violent by the agitators should not be supported because violence in any form, has never been known to resolve issues of agitation for self-determination. As a patriotic Nigerian, I believe in the unity and indivisibility of this country. As an Igbere man from Abia State, I love this country and will continue to push for its togetherness.
To be honest with you, those boys are right in their quest to agitate for self-determination. They have a right to demonstrate for what they consider as their right as recognised by the United Nations Charter for Human Rights. But, what I do not agree with is the violence associated with the demonstrations and the alleged killing of soldiers by the agitators. No commander-in-chief of any country would tolerate such act by any group, no matter the issue involved. It is an affront on the state. If I were the commander- in- chief, I would never tolerate such brazen act of lawlessness and violence. If any group killed one of my soldiers, I would invoke the law to handle such people.
Nobody, no matter how disenchanted, should think of killing any soldier or policeman in the name of agitating for their own republic. You cannot kill any soldier or policeman and get away with it. This is wrong, not because you are calling for your own republic.
The United Nations charter gave them the right to ask for self-determination. It depends on the people to conduct a plebiscite. It is not right to go and destroy people's property or the facilities of the Nigeria Armed Forces; whether it is the Nigerian Army, the Navy or the Police. The quest for self-determination should not be used as an avenue to commit serious criminality.
Agreed it is a right, but how do you go about it?
From the point of view of an international businessman, the agitators could express how they feel about self-determination.
But the question is, are those rights really worth it?
If I were the president of Nigeria, I would like to annex Benin Republic and other countries to become what I will call the United States of Nigeria, including some West African countries. So, why should any government allow any part of the country at this material time, to clamour to be allowed to separate itself? Why do you want to remove some parts now? But those boys also have a right to opt for what they want. This remains largely conditional. If only the people in the affected areas are left to conduct a plebiscite, to say whether or not it is something the United Nations has properly defined as a pre-condition for such agitation.
This is what the people should do if they are no longer comfortable with their inclusion in the current political arrangement that constitutes the Federal Republic of Nigeria.
President Buhari should be very familiar with this development because the agitation by MASSOB people has been there from time immemorial. It is not something new.
If I were the president, I would consult and engage some high profile traditional rulers and some political leaders to go and ask the boys what they really want, what is really their problem and what we can do to stop them from asking for this.
What is the reason for this agitation?
If we take our minds back, that was how the insurgency of Boko Haram started. When the insurgents first started the killings, it occurred in a Catholic Church. And as an adherent of that denomination, I vehemently condemned it.
I told you airport correspondents that after killing the Catholics, Boko Haram would go and kill everybody. Also, this was how kidnapping started. When I was governor, they were kidnapping white people and I spoke out, but people in federal government abused me. I warned that when they finished kidnapping white people and there was no more white man to kidnap, they would kidnap us and that is what is happening in the country today.
So, I will advise the Federal Government that as a federation, issues must be properly managed to resolve agitations by some people seeking to opt out as a republic. Government cannot stop people from such agitation. What is critical is how the issue concerning such agitation is handled. It is the management of the people that matters.
President Buhari as a matter of fact, should set out to engage traditional rulers and the leaders of thought, with security and intelligence agencies on how to resolve this potential trouble. Resolving the agitation for self-determination needs an all-inclusive strategy, not the use of force or carrying guns.
Government needs to engage the agitators and make them realise that it is ready to resolve whatever issues they have raised.
I must advise security agencies that using force to quell the agitation for self- determination at this time is not the best strategy. It is a wrong strategy, hearing people say that we will quench it by force. We cannot solve it by force because it is their right to ask for self-determination.
Recall what happened in Eastern Europe. They used engagement strategy, not force. My advice is that it is only a president that does not know what he wants that will want a section of his country to go.  I think negotiation is part of democracy.
What do you think about the parlous state of roads in the South East, which the agitators have alluded to as evidence of neglect of the region by successive administrations?
Reasonably, this is a serious matter. Honestly, the state of the roads in this region is not good at all. Consider for instance the Enugu-Port Harcourt, Aba-Umuahia Express Road that has not been re-constructed. If I were the president I would fix this road in the next two years to quell this recurring agitation. What about the Awka – Onitsha Expressway? It is not yet constructed. What about the Umuahia – Ohafia – Arochukwu Road, leading to Cross River?  Government should fix these roads within a short time as part of measures to resolve the agitations. What about Arondizuogu – Okigwe Expressway? The road has not been fixed. The government should also consider fixing Enugu -Makurdi road.
It is not good that people are dying on these roads everyday.
It is because of these roads that I quarreled with the Obasanjo administration since 2001. I consistently drew attention to the fact that roads in the South East, particularly federal roads, were very bad and government has taken this for granted. Look back at what I said over 10 years ago, about the state of our roads.They are still recurring today and government is still playing politics with it.
To sustain the unity of this country, which is foremost, government should look at these issues and resolve them. That is the truth and it must be said.
Could you clear the air on insinuations that you are planning to defect to the All Progressives Congress (APC), as a friend and supporter of Buhari to galvanize support for him if he wants to run for a second term in 2019?
There is no doubt that I am a friend of Buhari. Well, I will tell you the truth, my mother is in APC. You know that Buhari is a family friend. He is a chieftaincy title-holder in Igbere, our village. He was awarded a doctorate degree when I was governor in Abia State. This happened at a time the former president gave me a call that nobody should be given honourary doctorate degree. That day, we went ahead to honour Buhari with the doctorate degree. The former president was opposed to this because Buhari was contesting against Obasanjo in 2003.
For me, all these things are minor. The party you belong to does not make any meaning. What is important is that the president is a friend of the family and that he handles Nigerians well. He is a young man as far as I am concerned, comparing him to Mugabe. If Buhari handles the country very well, and he decides to run for a second term in 2019, I will support him. But, that is not a condition to join the APC.
Membership of any political party is immaterial at this time. All that is critical is that I have access to the president anytime. There is no time I told Buhari I wanted to see him that he had declined.
He is not the type of president that listens to businessmen, who are going around the corridors of power looking for business. Any businessman going to Buhari with the hope of getting business has missed it. The president has a lot of job in his hands.
If I were in Buhari's position, I would run for second term. That is the truth. There is no Nigerian president, who did not ask for second term; but it also behooves on Buhari to treat Nigerian people very well so that he can gain their endorsement for a second term bid.
How do you view the issue of removal of fuel subsidy?
The president needs to be convinced to remove fuel subsidy because it does not favour the poor. The fuel subsidy thing benefits only the rich. But, Buhari is yet to be convinced.
In my opinion, removal of fuel subsidy will favour the poor, who constitute the thinking of the president. The president thinks more about the poor, that is the truth. We need to continue telling the president that this subsidy is not for the poor, it is for the rich and I do not blame him because the man wants the poor people to get something.
He is a man who thinks more about the poor. He is a man who could have bargained everything for himself. I know this man very well. It is not in his character to say, 'this is my business, I am going to give Orji Kalu business'. Some business people who are going to him, thinking that he will give them business, are wasting their time.
He is thinking about the majority of those boys carrying Biafran flag, he is thinking about them, he is thinking about all those people who are carrying guns for Boko Haram and how they can stop.
I discussed subsidy with him. His answer was, what happened to the poor and it behooves on his team of economic experts to look him in the face and tell him that honestly, Mr. president, we must remove subsidy and it depends on Nigerians to also get on him and say that we must remove subsidy.
You don't blame a man who is not a businessman like me. He never traded in oil. Yes, he is minister of petroleum but I am not sure he knows basically that this subsidy is just for rich people who are trading on the oil. It behooves on his team of economists between now and the next few months or few years, to convince him and say no, we will continue losing money if you do not remove subsidy.
Could you tell us what happened to your bid to become president of FIFA?
The truth is that I never aspired to be president of FIFA. But, some people know that I have the capacity to handle the body. Blatter and many heads of state in Africa endorsed me. Even, Great Pele of Brazil endorsed me, with many powerful countries in Africa, which wanted me to run. They wanted Nigeria to run for that exotic position but as a country, we took it for granted. Pele could not have said Nigeria should run without narrowing it down to somebody. I will speak on FIFA more elaborately in the future.
I will speak on why I did not run for FIFA in the future.
What plans do you have in place to bring back Slok Air ?
Slok Airline will come back. Well, you know the case of Slok Airline is before a Federal High Court judge and I cannot really go deep on it. We have taken the Federal Government to court and we sued them to pay us N35 billion.
If two people are fighting, it is only the court that will separate them. The Ministry of Aviation planned to ask us to take back our operating licence and shut up. And we have said no to such plans. Remember we had 14 aircraft kept on the ground for over one year. That is a huge loss.
The reason we are suing the ministry is to get our money back. For over one year, we did not fly. We need our money back.
We invested over N40 billion and we are only asking for N35 billion. We will stand by the decision of the court. We will pursue our case to the Supreme Court to enforce our rights and the damages done to our business.
We will exhaust all legal avenues to enforce our rights.People just think that the judiciary is weak. That is not true; the judiciary had saved us many times. I know that some judges are corrupt; there is no segment of Nigeria that is not corrupt.
Slok Airlines will return to correct some deficiencies in the aviation industry, because you know we are very efficient.
[Daily Sun]