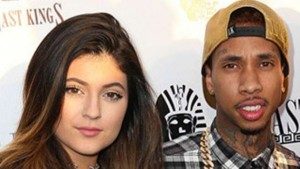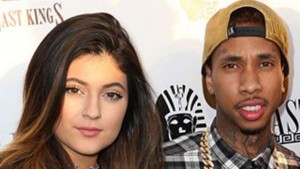 Rumor has it that Tyga and Kylie Jenner have been waiting for her to turn 18 before they would have sex.
The 25-year-old rapper wished his now-legal girlfriend a happy birthday on her day by sharing a photo of her pulling the top of her dress down on his Instagram.
Along with the sappy and sweet caption, "Happy bday to dopest girl ever," the photo of Jenner shows her wet and pulling the top of her dress down to expose part of her breast. While Jenner and Tyga have not publicly admitted they're a couple, it's been known for months that the rapper and teen are dating.
Tyga gifted Jenner with a white Ferrari during her birthday party at the Los Angeles hotspot Bootsy Bellows. When Jenner walked outside the nightclub, she saw Tyga standing next to the expensive car, which had a giant red bow on it. She started screaming and playfully hitting Tyga in the stomach before giving him a hug.
Even though photographers were yelling at the couple to kiss, Jenner and Tyga just embraced before getting into the car.