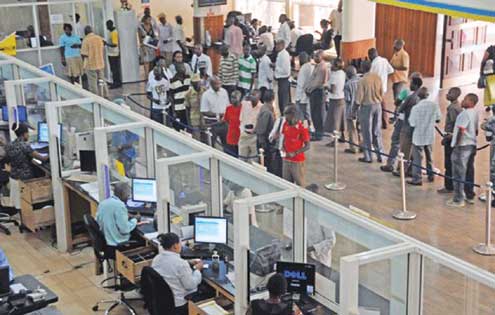 As a son of Ogoja Local government, I have watched with great dismay the level of hardship my people pass through in order to withdraw money or deposit money. It is also very unfortunate that  in the entire Ogoja Local government there are just six banks which serves the entire Local governments of Yala, Boki, Bekwarra, Obanlikwu and Obudu. Putting the residence of these areas in untold hardship. It is also a thing of pity that residence within this region queue  for hours just to make a simple deposit or withdraw money through the Automated Teller Machine (ATM) or the bank counter.
It is so because, all bank transactions are made in Ogoja. Both salary of workers and pensioners are paid through Ogoja local government , causing serious difficulty for customers to have access to their funds.
It is also on record that banks add great value to the economy of a region. Promoting business within where there are located. I get baffled that in other small towns many banks are operating there but in Cross River North the story is different.
Banks accept deposit, make loans, derive profit from the interest charged. Where there are no banks in an area or region it slows the development of that locality. A town like Yala local government should have  banks. Yala is about the biggest local government in Cross River State but it is pertinent that it does not have a bank. Within Yala we have Yahe which is a small town with huge economic activities booming but it still does not have a bank.
Other Local governments of Bekwarra, Obudu, Obanlikwu and Boki also needs banks to run there. Banks are the most important financial institution in an economy as there help propagate businesses and sustain them.
Banks provide a safe haven for money deposited. There aid the quick payment of bills such as DSTV, water bill, hospital bill, light bill and many more.
Banks aid businesses through borrowing and lending. Giving out of loans to customers. They help in reducing risk as people do not need to travel with huge sums of money to neighboring towns or long travels. They serve for convenient purposes.
They help in the development of the economy of an area as they facilitate business in an area. Especially with a growing economy like that of Cross River North, it is expected that banks troop in there in order for them to aid and promote agriculture, fishing, poultry, and other SMEs.
Cross River North is still very backward today because of the unavailability of banks. For the records, banks assist young entrepreneurs. Today in Cross River North, the youths are either seen riding motorcycle or roaming the streets due to lack of jobs and grants to facilitate SMEs.
Let it be known that for Cross River North to grow fast and rapidly, there has to be expansion of financial institutions to promote and encourage participation of investment activities.
It is my candid opinion that the government of Cross River State influence banks to build their branches in other towns of Cross River North other than Ogoja as it will go a long way in reducing the sufferings of the people and promoting and developing the region.
Prince Thomas Abi Jr. 
Is a Public Affairs Analyst/ Social Commentator