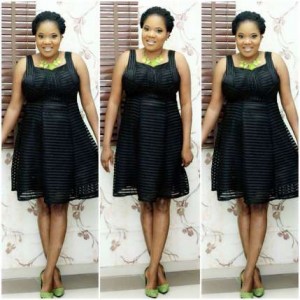 From the look of things, it seems Toyin Aimakhu ex-boyfriend, Seun Egbegbe is hell bent on wrecking the Alakada actress' career, as he had earlier threatened to.
Following their messy break-up, the Ebony Films boss has granted several interviews, in which he revealed a lot of things about the Edo-born actress and their relationship. In fact, he allegedly went as far as publicly disclosing how he used to make love to the actress.
In a recent Interview with GoldmyneTV, Egbegbe narrated why he's at war with Toyin Aimakhu.
'I met Toyin 15 years ago. She was a little girl when I met her. We dated for sometime before we went our separate ways. We started dating again last year, and she's been staying with me since then', he said.
Speaking on why they parted company, he said, 'I think it was last month, she went to a location at Oshodi. I received a call from different people, telling me about what Toyin posted on Instagram. Being her boyfriend, I was shocked to see her crying over a man when I checked her Instagram page. I called her to tell her that what she's doing is not nice, but she wouldn't listen. So, I went to where she was shooting and I collected the phone from her and I left immediately.
'I was surprised when I started hearing that Seun Egbegbe has kidnapped Toyin Aimakhu. Up till today, she has not come out to say that I didn't kidnap her. I want her to come out her tell people the truth.'
He further said: 'Toyin Aimakhu is very good person, I won't lie to you. But she's a lady that's not ready to stay under a man's roof. Even if a lady is a billionaire, she must learn how to be submissive. What she did to me is bad, she really went too far. I don't want to talk about her anymore because she's not relevant to me. She has messed herself up.'
Reacting to the interview Best Of Nollywood (BON) published recently, the Ogun State-born socialite denied telling the entertainment journal 'No man can satisfy Toyin Aimakhu sexually.'
'Immediately I saw the publication, I called Seun Oloketuyi (BON Publisher) to let him know that I never told him such thing. I am a mature man and I will never say something like that. I also sent a message to Toyin via WhatsApp to let her know that I didn't say so', he explained.
On why he threatened to kill her career, Egbegbe said:
'I don't have issues with Toyin, all I want from her is to come out and tell people the truth about the kidnap story. Until she does that, no producer will call her for job. And if I hear she's on a set filming, I will go there and stop the production. I don't think there's anything bad in killing her career, if she thinks she can tarnish my image.'
Asked if he would accept Toyin back, if she returns to him, he said, 'If this fight had not happened, there's nothing bad in getting married to her, but with how she treated me, I don't think I would want to date her again. We can only be friends.
We reached out to Toyin to hear her own side of the story but the award-winning actress refused to comment on the development.
A source in the know told Theinfostride that Seun Egbegbe's threatening remark is an idle threat.
'Seun Egbegbe is so obsessed with Toyin that's why he's saying rubbish about her in order to get her attention and Toyin has vowed not to trade words with him. Many of Seun friend's have told him to let the sleeping dogs lie, but he wouldn't listen. I just think that he's constituting a nuisance with the way he has chosen to handle the case', the source said.
Meanwhile, Toyin Aimakhu's presently promoting her TV Reality Show, 'Keeping Up With Toyin Aimakhu'. She recently released an episode in which she talked about why she will never go back to her estranged hubby, Niyi Johnson.