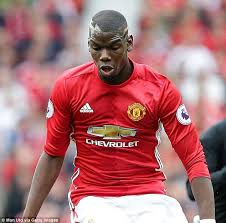 With Manchester United due to host Chelsea at Old Trafford, Jose Mourinho is again concerned with the quality of his attack. His team, having been largely dominant against Anderlecht in the first leg of their Europa League quarterfinal, still failed to put the first leg out of sight and were punished for their profligacy by a late equaliser.
Mourinho's scrutiny in his post-match comments fell firmly upon his forwards, who will be called upon to deliver against Chelsea. The fear is that, again, they may not do so. Anthony Martial, regarded by many as the chief culprit against Anderlecht, is looking particularly bereft of confidence. Though he can rightly expect some criticism for a subpar display, Mourinho may yet note that this team has broader issues, which are only highlighted by the Frenchman's form.
For all their considerable diligence and discipline, United's full-backs are not elite playmakers. Matteo Darmian rarely overlaps, which means that Martial is very often the sole attacking threat coming down that wing. This sees him frequently up against two or three defenders penned right against the touchline. It's very difficult to create anything with great consistency from that position, and though there are some players in the world who can do so, they can probably only be counted on the fingers of one hand.
Chelsea, so ruthless in wide areas, are very likely to isolate Martial or anyone else down the United left, with their 3-4-3 formation the ideal design to press United's winger as a group. This makes Mourinho's search for an outstanding left-back — assuming he has lost faith in Luke Shaw — one of the greatest importance. The fear is that Martial may have fallen too far from failure too.
There is also a concern on the right flank. Antonio Valencia has excelled defensively for United this year and has got forward well in support of his fellow forwards, which is partly why Henrikh Mkhitaryan has been enjoying a better run of form of late. Yet there is a problem in that Valencia may not create enough. Against Anderlecht, he often cut infield instead of going wide, reducing the momentum of the attack. It's presumably part of a safety-first approach, but it would be good for him to rediscover some of the freedom he had as a winger.
Chelsea will need no encouragement to hound United at Old Trafford. Their last two games have resulted in a loss and a hard-fought win against two teams, Crystal Palace and Bournemouth, respectively, that they might have been expected to summarily dismiss. Antonio Conte's side will be looking to resume the formidable momentum of recent months, especially with a watchful Tottenham just four points behind them in the league table.
Their control of the game against Manchester City, a 2-1 win at Stamford Bridge, was the most ominous reminder of their capabilities. Eden Hazard is likely to be the main threat again, which should surprise no one — the key issue, as ever, is what can be done about him.
Mourinho is loath to criticise players who are entirely obedient, but his teams suffer from a lack of fluency when Marouane Fellaini starts as part of a midfield three. This is so obvious a point that it barely bears making, but it is important in that United's failure to move the ball swiftly through midfield makes the job of their forwards significantly harder. Much of the attention against Chelsea will also fall upon the shoulders of Paul Pogba, to whom many will be looking for a decisive display.
Pogba's season has tailed off a little in recent weeks, with injury and exhaustion partly mitigating that decline, but these are the kind of matches where he should be supreme. As ever, with Pogba, it is not remotely a question of ability: it is having the temperament to let the game come to him, to try to not force the spectacular pass or dribble, and to not lose composure when he finds himself on the fringes of the game. Come the end of the season, it is matches like this upon which he will most closely be judged.
Alongside Pogba, Mkhitaryan is a player who is supremely capable of breaking down Chelsea's resolute defence. He was effervescent in patches against Anderlecht, let down to an extent by Zlatan Ibrahimovic's wastefulness in possession. (It's an aspect of the Swede's game that has escaped the most severe attention due to his hugely impressive goal-scoring feats.) In a game likely to be as close as that on Sunday, the soloists like Hazard, Mkhitaryan and Pogba will probably make the difference.
Though a home draw would be a good result for United in this instance given Chelsea's quality — and, indeed, the likeliest result — this game represents an opportunity to put down a marker for next season, by which time United will have strengthened their squad in several key areas. Mourinho is famed for having far greater success in his second season at a club than at his first; if that is to be the case, then his campaign in that regard must begin now.