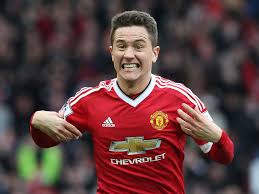 With Wayne Rooney set to return to his boyhood club Everton, Manchester United are losing a club legend. But his imminent departure also means the captain's role will be available next season.
As the record goal scorer, Rooney's legendary status wouldn't usually be questioned but controversy surrounds this discussion when it comes to him. The player famously asked to leave the club in 2010, before claiming it was the biggest mistake of his career. Less than two years later, he again told Sir Alex Ferguson he wanted to leave, but ended up staying and signing a new contract.
Everton fans will forgive all the times he goaded them by kissing United's badge during the past 13 years, so United fans can get over his lack of loyalty. Often something has to end before it can truly be appreciated and that's likely what will happen with Rooney at United.
One thing that isn't up for much debate is that Rooney will not go down as a legendary captain. He was the shock selection of Louis van Gaal, who chose the England striker over his pick for the Dutch national team: Robin van Persie.
The years Rooney has worn the armband have coincided with his poorest form at the club. The passion he was famed for has waned, but he was never in the mould of Roy Keane or Bryan Robson.
While he certainly played a positive role in the dressing room and was able to advise younger players, he won't be remembered as one of the club's great leaders. And now there will be a chance for someone else to take over.
Ander Herrera is the fans' favourite, having just won the Sir Matt Busby Player of the Year award. Herrera's ability to show up in the big games has marked him apart from the other candidates, going toe-to-toe with the star players in rival teams and showing a fantastic desire to fight for everything.
Jose Mourinho is a big fan of Herrera too, recently singing his praises for his ability to think on his feet after his instructions led to Henrikh Mkhitaryan's goal in the Europa League final.
The Spanish midfielder has repeatedly distanced himself from the role, though. Modestly, and accurately, he has claimed he needs to do more for the club before being named captain.
Michael Carrick has won it all and will be the longest serving player once Rooney leaves, so there are no doubting his credentials where this is concerned. However, supporters will be hoping he plays a marginal role next season, used sparingly in the games or moments where his experience comes in handy.
Rooney's departure should signal a fresh start, so giving the armband to a 35-year-old who will barely feature doesn't make much sense.
This argument may rule out Antonio Valencia, too. He had a great season in Mourinho's debut campaign and was the captain for the Europa League final: Valencia was voted player of the year too, for the second time in his United career, signalling the respect his teammates have for him. He doesn't seem to have a commanding personality though and doesn't appear very vocal on the pitch.
Goalkeeper David De Gea may be offered the carrot of captaincy if he snubs Real Madrid's advances this summer, just as Nemanja Vidic was when signing a contract in 2010, leapfrogging Rio Ferdinand who had been ahead of him in pecking order.
De Gea appears to be well-liked, particularly among the Spanish contingent, and is not afraid of barking instructions to his teammates. Yet outfield players usually make the best captains, given they can communicate with all players freely, whereas De Gea would be some way out of the action.
The final serious contender is Paul Pogba, the player who spent several years in United's academy, before leaving for Juventus and then returning for a world-record fee of £89.3m last summer.
In terms of footballing ability, Pogba is arguably the best at the club. Despite his relatively young age, the 24-year-old has already amassed plenty of trophies and winning experience.
Mourinho may question whether it's worth piling more pressure on Pogba though, who has already shown signs that he is struggling with the title of the most expensive player in the world.
United supporters will be hoping that whoever Mourinho chooses will oversee the return of the glory days to Old Trafford. The last captain to lift the Premier League trophy for United was Vidic and, to put it in perspective, he retired from football 18 months ago.
Mourinho needs to win and he needs to pick a captain who can help lead the team to success. Fans may be split on who would best fulfil that role but chances are Mourinho knows who he will pick once Rooney walks out of the Old Trafford door.