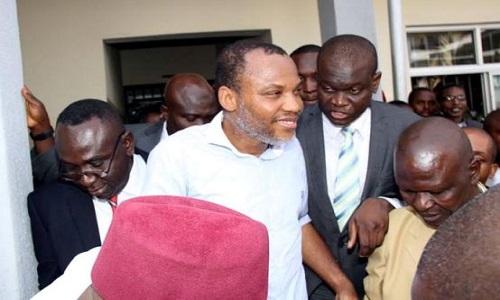 Nnamdi Kanu has accused the Nigerian Army of trying to provoke the group into a war following reports that his Umuahia home was attacked.
Kanu has said the army's leadership is not telling the truth to the public about the ordeal, claiming that the soldiers were indeed after him.
Kanu said, "At the end of the junction of this untarred road is where they parked their tanks. I saw them, go and watch the video. They moved up and they reversed and came back.
"They turned their tires to come in here, and the young men said no, they won't come in; that's exactly what happened.
"Their intention was to come here to ransack my family home, and we will not have that. That is what happened yesterday."
"Nigeria is bringing war to us, we're not fighting anybody. It is Buratai and his men that are bringing war unto us.
"They want us to become armed so that the world can say that Nnamdi Kanu is leading a violent armed group, which is not the case.
"They're provoking us to war."