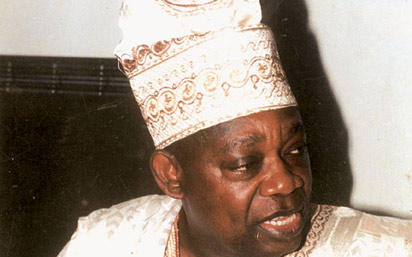 After President Muhammadu Buhari had mobilised the whole nation to celebrate on May 29 as Democracy just a few days ago with a national broadcast, albeit with lies and deceits to cover up his failures, he woke up today to declare that henceforth June 12 will be Democracy Day, not May 29 any longer.
He also said he has conferred the highest national honour of GCFR to the presumed winner of the June 12 elections, MKO Abiola, and GCON to his then running mate, Babagana Kingibe.
The whole idea is to deceive Nigerians again that he is indeed a democrat, or as some folks are saying, to deceive South Westerners from where MKO hails, that he empathises with them on the denial of MKO's mandate.
We have not forgotten that when Abacha usurped the MKO mandate and was in need of the endorsement of national leaders to stabilise his stolen mandate, the likes of Gen Yaradua and Obasanjo opposed him while Buhari endorsed him and joined to serve in Abacha's government.
Enjoying the percusses of his position as PTF Chairman, he said nothing when Yaradua was killed in prison. He said nothing when Kudirat Abiola was murdered. He said nothing when Pa Rewane was murdered. He said nothing when Bagauda Kaltho was murdered. He said nothing when Alex Ibru was shot. He said nothing when many more others were killed in their struggle for June 12.
Abacha's usurpation of the June 12 mandate took cue from Buhari's ouster of the Second Republic led by Shagari in which our real and true hard working political leaders were destroyed through Buhari's propaganda of corruption.
It is therefore such a slap on our face for Buhari to be talking about June 12 today because we have moved on and as a people, we on our own, decided in 1999 that the presidency should go exclusively to the South West as a process of healing ourselves from the injury inflicted on our nation by Babangida, Abacha and their friends which included Buhari.
So, ask me, what good will the conferment of the honour of GCFR do to MKO after his death? MKO contested not for honours but to alleviate our nation through his acumen in business and his international connections. We voted for him because we believed in his sense of fairness to all to lead this nation to greater heights. That we were robbed of.
Of what use is it today if Buhari declares June 12 Democracy Day or if it remains on May 29? By the way, of what use is the celebration of Democracy Day when we don't have Democracy in the real sense with the increasing hardship, daily murders of citizens across the country and citizens living under fear?
Just before Buhari declared the new date, ostensibly to please the Yoruba's, he had first ridiculed the Igbos be reminding them of their losses at the civil war, suggesting that the hundreds of thousands of people killed was just minimal damage. The obvious motive being to raise such sectional sentiments in a bid to further divide us to achieve his political ambition of having a second term, 34 years after he had been Head of State.
If this is calculated to win the heart of the Yorubas, I doubt if they are fools.
Nigerians might be feeling powerless and hopeless at the prevailing tyranny and propaganda of deceptions but I also doubt if Nigerians are really fools as Buhari's advisers seem to convincing him.
As Marley put it, you can fool some people sometimes but you can't fool all the people all the time.